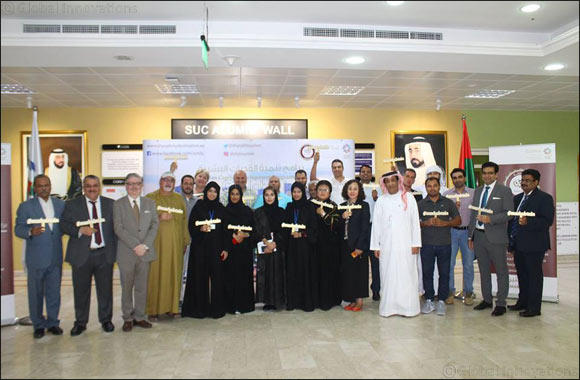 Dubai, UAE, December 5, 2017: Skyline University College conducted the Marhabtain - Renewal Tour Guide Training Program for Sharjah Commerce and Tourism Development Authority (SCTDA) on November 27, 2017 at SUC Campus. Mr. Mohammad Youssef, Senior Consultant - Tourism Affairs & Acting Manager - IPTD of SCTDA briefly introduced SCTDA and its role to the participants. A well-structured training session was conducted thereafter.
Resource Speakers of the training were SUC Dean Dr. Amitabh Upadhya, Student Services Department Head Dr. Osama Ali Thawabeh, and Associate Professor Dr. Mohit Vij who covered the topics of: Tourism Phenomenon Role of a Tourist Guide, Sharjah as a Tourist Destination, Sharjah as a Cultural Destination, Innovation & Sustainability, and Reputation Management in their respective sessions.
The Renewal Tour Guide Training Program is specifically targeted to experienced professional tour guides in Sharjah to update their knowledge about the emirate and the UAE in general with the aim to promote the country to outside visitors.