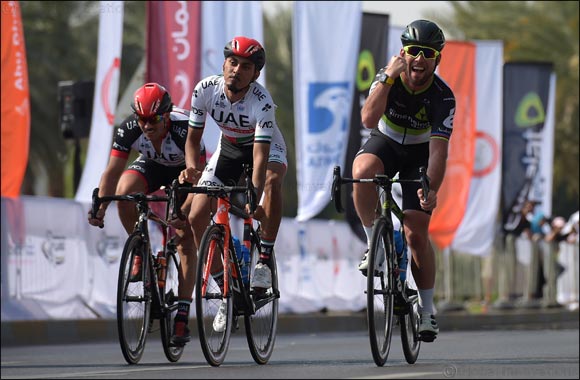 Dubai, UAE, December 3, 2017: UAE Team Emirates' Emirati rider Yousif Mirza came second to Mark Cavendish (Dimension Data) at the inaugural Abu Dhabi to Al Ain Classic in the UAE today. Yousif was joined by Italian teammates Roberto Ferrari - who joined Mirza on the podium - and Manuele Mori, as well as 200 other riders at the start line.
Speaking after his finish, Mirza said: "It was a great race from Abu Dhabi to Al Ain. It was quite windy and on the flat that can affect the outcome of the race. The quality was really high and all the top professionals finished in the main group. We are really proud of the strides we've taken in cycling here in the UAE over the past few years, thanks to UAE Team Emirates, Abu Dhabi and Dubai Sports Council. I am so proud that we have another world class cycling event right here in the UAE!"
The race, the first of its kind in Abu Dhabi, was hosted by Abu Dhabi Cycling Club and was under the patronage of the Abu Dhabi Sports Council. The race started on the Corniche and ended in the Garden City of Al Ain, 175km later.
Race Results:
Mark Cavendish – Dimension Date 4:31:49
Yousif Mirza – UAE Team Emirates 4:31:49
Roberto Ferrari – UAE Team Emirates 4:31:49