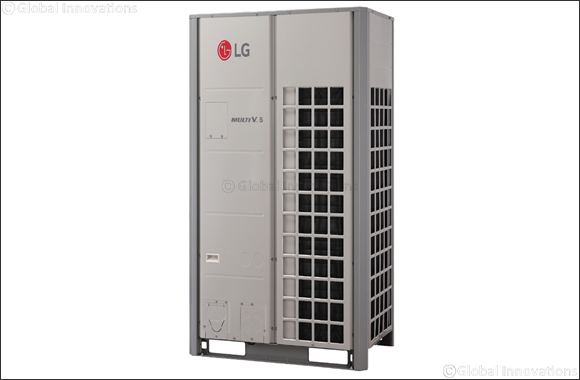 Environmentally-Conscious, User-Friendly and Futuristic Home Appliances are Uniquely Designed to Offer Superior Quality, Timeless Design and Better Technological Access

DUBAI, 03 Dec. 2017 - Spotlighting the commitment to environmental sustainability and energy-efficient green building technologies, LG Electronics' latest industry-leading innovations have focused on creating sustainable commercial and residential buildings. The success of LG's air conditioners has allowed the company to become one of the major players in the highly competitive HVAC industry.

By enhancing the industry's B2B infrastructure and finding further solutions for the HVAC sector, LG has risen to become a total HVAC solutions specialist. In today's hyper-competitive property market, building owners and managers are constantly on the lookout for ways to increase tenant satisfaction while reducing overhead. This constant tension has had a profound impact on the way that buildings are designed, staffed and maintained.

In light of the rise of advanced HVAC solutions, building owners and managers need not look any further as LG Electronics' brand new MULTI V 5 Variable Refrigerant Flow (VRF) solution has been designed to offer exceptional performance in MEA regional climatic conditions. The latest in the company's successful MULTI V line, this advanced model pushes boundaries even in the most extreme climate conditions with its streamlined functionality optimizing energy efficiency and maximizing user comfort.

"Growing demand and interest has given rise to a new generation of innovation in energy efficient solutions specifically designed to bring down operational costs. LG remains steadfastly committed to providing outstanding support to its esteemed customers. Headlining this fresh wave of user-centered solutions is the LG MULTI V 5, which offers the streamlined functionality necessary to both optimize energy efficiency and maximize user comfort", said Mr. Yong Geun Choi, President LG Electronics Gulf.

The company has been focusing on steadily increasing its sales and market share by introducing energy efficient and reliable HVAC solutions and actively pursuing new opportunities wherever they arise. This sustained, excellent performance is built on a solid foundation of global R&D and advanced manufacturing capabilities.

The new and latest MULTI V 5 is the result of sustained improvement. With the world's top class compressor and innovative technology competency applied on every part, cycle and most advanced controlling solution, the latest MULTI V 5 has evolved to be one of the world's most efficient and reliable VRFs.

Variable refrigerant flow (VRF) systems are known for their high energy performance and thus can improve energy efficiency both in residential and commercial buildings. The energy savings potential of this system has been demonstrated in several studies by comparing the system performance with conventional HVAC systems. VRF systems have been popular with numerous benefits including: ease of installation, design flexibility, maintenance, and energy efficiency.

Reports indicate that most countries within the MEA region have expressed their ambition to construct sustainable buildings and infrastructure that will help reduce energy consumption - saving not just costs, but the environment.

In a report it published last year, it is predicted that the value of the Middle East and Africa (MEA) heating, ventilation, and air conditioning (HVAC) market would exceed $16.2bn by 2020. The report identified population growth and the recovery of housing markets in the region as two key factors helping to boost demand for HVAC equipment across sectors including commercial, industrial, and residential.
The report also made notes on changes in smart and green building standards, as well as how consumers are becoming more aware of the benefits of using sustainable systems. This, in turn, has led HVAC suppliers to focus on developing more energy-efficient and technologically innovative products.

Building owners have long flocked to efficient solutions for their ability to reduce operational costs, but in recent years another justifying reason has emerged. More than any other design trend, the desire to reduce a building's environmental footprint has become an important cultural signifier. The energy efficient HVAC systems are becoming more of a necessity rather than mere luxury products in countries across the MEA region.

Countries such as Saudi Arabia and the United Arab Emirates (UAE) account for the major share of HVAC market in the MEA region primarily due to perennial hot climate, growing population, infrastructure, along with urban development among others.

While the MULTI V 5 is ideal for building owners, in the end we all benefit from the advancing capabilities of modern HVAC solutions. Seamlessly combining features that improve energy efficiency, boost durability and strengthen flexibility, the MULTI V 5 is delicately crafted to provide everything that building owners prioritize in their solutions.

These benefits and more make it clear that the MULTI V 5 is the ultimate solution for building owners precisely because of its ability to reliably create comfortable environments for occupants. Everything from modern offices and loft apartments to open public buildings can benefit from what the MULTI V 5 can offer.