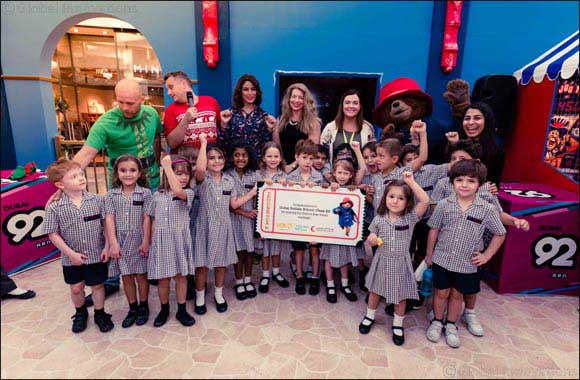 UAE school children were encouraged to donate new or gently loved teddy bears in celebration of the release of PADDINGTON 2
Class 2B of Dubai British School donated the most bears at 317, winning a private screening of the film at Novo Cinemas, Dubai Festival City Mall
The teddy bears will be distributed by Toys with Wings to less fortunate children around the world
3rd December 2017, Dubai: Thousands of teddy bears will find new, loving homes with less fortunate children around the world thanks to the generosity of youngsters in Dubai.
More than 6,000 new or gently loved cuddly toys were donated to the 'Share a Bear' School Challenge, which was spearheaded by Novo Cinemas to celebrate the release of the new PADDINGTON 2 movie on 30th November.
Youngsters from schools across Dubai were encouraged to donate brand-new bears or to generously give up formerly loved teddies that could be donated to new owners.
A total of 6,016 teddy bears were handed in to the appeal, with 317 toys donated by a single class of school children from Class 2B at Dubai British School. The youngsters' generosity was rewarded with a private screening of the new PADDINGTON 2 movie for the entire class at Novo Cinemas at Dubai Festival City Mall.
Emirates Red Crescent and Toys with Wings, which will distribute the teddy bears, were overwhelmed with the response as school children of all ages came forward to donate thousands of cuddly toys.
Mouna ElHaimoud from Toys With Wings said: 'We are astounded by the generosity of the school children in the UAE and the number of bears that have been donated from this initiative. The teddies will go a long way to brightening up the lives of thousands of children this holiday time.'
Debbie Kristiansen-Stevenson, CEO of Novo Cinemas, commented: "Novo Cinemas have been extremely proud to head-up this 'Share a Bear' initiative in celebration of the PADDINGTON 2 movie release.
"It has been truly inspirational to see how much support it has garnered from schools across the UAE and we couldn't think of a better cause than Toys With Wings and Emirates Red Crescent to donate these bears to. We are confident that this is the start of an ongoing CSR initiative for Novo Cinemas."
Following on from the original PADDINGTON movie, PADDINGTON 2 sees everyone's favourite Peruvian bear happily living with the Brown family and his adventures as he carries avariety of jobs to buy his Aunt Lucy a present for her 100th birthday. It was released in cinemas across the region on 30th November.