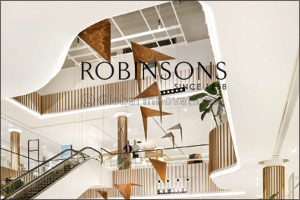 Dubai, UAE, December 3, 2017: In celebration of the inspiring success story of the UAE and its unity for 46 years, guided by the shrewd vision of its leaders, Robinsons, the leading fashion department store located at Dubai Festival City Mall, is taking the UAE National Day to a whole new level this year. Robinsons is proud to present a unique trunk show, bringing together the talents of local and regional designers that will be showcasing some hot off the runway and ready-to-wear couture abaya designs, jewelry and bags, all in a beautiful fusion of local and global flavors.
The Robinsons trunk show will be taking place on the 2nd of December from 4 to 5 p.m. gathering all the following talents under one roof:
Pearla: Established by Hessa and Fatma Ali Aljoker, Perla is a unique Dubai based fashion brand that creates conceptual ready-to-wear garments. The pieces vary in terms of their uses ranging from everyday wear to pieces designed to capture the attention of the crowd.
Mixari: Which means the celebration of receiving the bride's dowry from the groom's family. The designs are implemented innovatively with a modern touch and specialized in mixing colors, fabrics and vibrant patterns.
Kanzi: Which means 'my treasure' in Arabic, is a brand that stands to its name, launched in 2008 by its founder Raghda Taryam, presenting exclusive abayas, kaftans, evening wear and custom-made wedding dresses.
YNM: a Dubai based ready-to-wear fashion label, specializes in simple and elegantly refined contemporary hand-made garments that are entirely designed in house. YNM revolves around classical simplicity, minimal delicacy and modern femininity.
Hana Collection: The Emirati leather handbags brand that was proudly designed by its founder Hana Al Matrooshi, who is the first Emirati to design leather handbags. The bags boost having a recognizable distinguished shape, which resembles wings that symbolizes freedom and classical beauty.
Ruwaya: With a double meaning of 'quenching a thirst' and 'story telling' the name Ruwaya fully explains the jewelry brand ethos. Combining Arabic heritage with the finest ethically sourced stones, Fatima, the brand founder carefully designs fine jewelry works of art, allowing their raw natural beauty to determine the look of the final pieces.
Abeer: Unique abayas designed by Abeer Al Suwaidi who is on a mission of casting traditional abayas in breathtaking contemporary form. Abeer is following her philosophy which can be summarized in the belief that 'nothing stays constant – not even the abaya'.
What to expect?
Witnessing the latest collections of the seven participating designers, meet and greet with Loup Noir bag's designer, initials embossing with any bag purchase, lots of gifts and surprises, children's entertainment including face painting and balloon bending, henna drawings and much more.