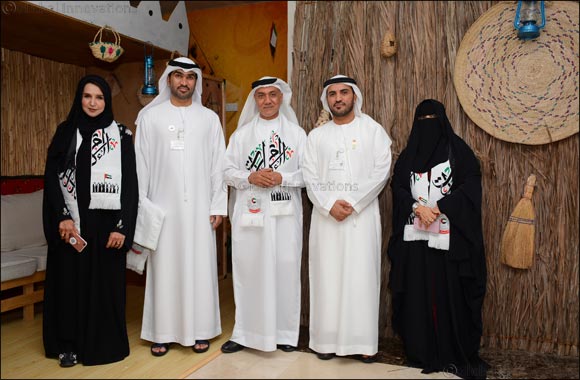 Dubai, UAE, December 3, 2017: Awqaf and Minors Affairs Foundation (AMAF) and its Family Village, celebrated the 46th UAE National Day with traditional flair and a host of entertainment, artistic and cultural activities that reflected the UAE's heritage and the spirit of the union.
The celebration drew the participation of AMAF's employees of all ranks and their families, minors and orphans under AMAF's care.
Speaking on the occasion, His Excellency Tayeb Al-Rais, Secretary General of AMAF, congratulated the UAE President His Highness Sheikh Khalifa bin Zayed Al Nahyan and His Highness Sheikh Mohammed bin Rashid Al Maktoum, Vice President and Prime Minister of the UAE and Ruler of Dubai. He also extended his best wishes to Their Highnesses the Supreme Council Members and Rulers of the Emirates, as well as the citizens and residents of the UAE.
His Excellency Tayeb Al-Rais said: "The UAE National Day is one of the most significant dates on our calendar, as it represents unity, solidarity, and our quest to preserve our heritage and build on the successful achievements of our leaders since the establishment of the federation 46 years ago. Today, as we proudly raise the flag of our country to celebrate the legacy of the founding father of the UAE, late Sheikh Zayed bin Sultan Al Nahyan, we pledge to carry on his relentless efforts to ensure the safety and prosperity of our beloved homeland."
He added: 'Following in the footsteps of our founders, the UAE leadership has notched up significant milestones with its humanitarian and charity endeavors worldwide. At AMAF, we work together as a family to reinforce the values of compassion and generosity that the nation holds dear to improve the lives of those in need locally, regionally and globally.
"Endowments are an integral part of our ethos as Emiratis, and the Foundation's latest objective is to institutionalize and better organize charity and endowments to ensure they reach their beneficiaries more effectively and efficiently. With the support of likeminded individuals and institutions, we are proud to contribute to consolidating the UAE's reputation as a model of social solidarity for nations around the world."