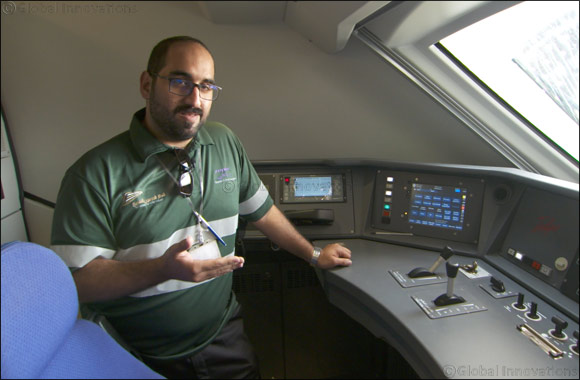 Dubai, UAE, November 29, 2017: The next episode of CNN Marketplace Middle East, airing on CNN International from Saturday 25 November, looks at how Saudi Arabia is spending billions on rail lines, underground metros and on street trams. The show reports about one of the biggest public transportation projects in the middle east and first major rail projects to come on stream and how it is set to transform western Saudi Arabia. The network is a 450-kilometer-high speed rail line linking the holy cities of Medina and Mecca with the port city of Jeddah and the Economic City, with trains running faster than 300 km per hour.
With a price tag of 14.4 billion dollars, 35 trains are currently going through extreme weather testing to ensure they can withstand temperatures above 50 degrees Celsius as well as desert sands and dust. They will transport passengers between the four cities every half hour.
A part of Saudi Arabia's Vision 2030, the plan aims to increase pilgrim visitors to the two holy cities from 15 million to 30 million by 2030 and be the preferred mode of transport within Saudi Arabia.
Key Quotes:
Mohammad Feda, Director General, Haramain Express, tells CNN Marketplace Middle East: 'This is not only for the pilgrims. It's also for the daily basis, daily needs. People will be visiting their families, students going to college. It's for the the residents in the country. We're connecting four cities. Mecca, Jeddah, Economic city, and Medina, with a train network that can reach 330 km per hour and travel from Jeddah to Mecca in two hours, which previously took four by road.'
Train driver Abdullah Al Ahmadi tells CNN: 'Saudi Arabia and the middle east doesn't have any high speed trains, so joining this and getting into this kind of field, it's more of an achievement for me, to add something to myself that I did. I've been in the first group of the Saudi high-speed train drivers in the middle east, so it encouraged me and I like the experience of it. It's a nice feeling to see something accomplished like this project to come live later. I've enjoyed it."
Marketplace Middle East airs on CNN International at the following times:
Sunday 3rd December at 1945 GST