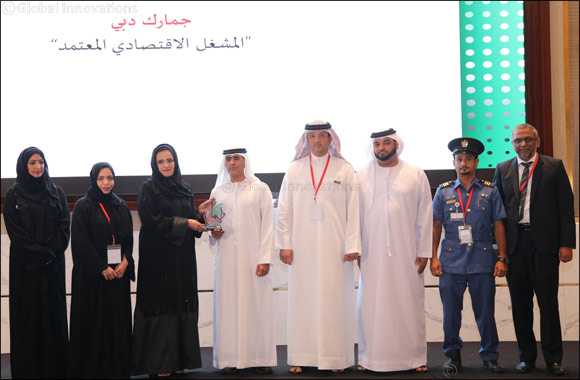 Dubai – 29 November 2017: Dubai Customs won the Innovation Shield at the 6th UAE Ideas Conference & Award 2017 which was held on 19th November 2017 at Grand Hyat Hotel in Dubai under the patronage of H.H. Sheikh Ahmed bin Saeed Al-Maktoum, President of Dubai Civil Aviation Authority, Chairman of the Dubai Airports, Chairman and Chief Executive of the Emirates Airline & Group and the Honorary Patron of Dubai Quality Group.
Dubai Customs received this accolade on its Authorized Economic Operator (AEO) pogram under (Marketing and UAE external representation) category. The AEO program is a federal program that connects the UAE with the rest of the world in terms of trade and customs. It recognizes traders as trusted operators and provides them with exclusive benefits.
H.E. Engr. Sheikh Salem bin Sultan bin Saqr Al-Qasimi, Chairman of the Department of Civil Aviation in RAK gave the shield to Eman Badr Al Suwaidi, Director of Customs Declaration Department in the presence of Fatma Al Muhairi, CEO of Dubai Quality Group and Hussain Al Fardan, Senior Manager of Dubai Customs' Innovation Centre, Chairman of Ideas Arabia and Ideas Emirates.
Officially launched at Gitex 2016 by H.H. Sheikh Hamdan bin Mohammed bin Rashid Al Maktoum, Dubai Crown Prince and Chairman of the Executive Council, the AEO program delivers a comprehensive set of benefits to certified partners including faster clearance, preferential customs treatment and dedicated Key Account Manager. It also establishes strategic partnerships with other AEO programs around the world through Mutual Recognition Agreements (MRA) which will facilitate global market access to AEO certified local traders. Potential authorized economic operators could include manufacturers, importers, exporters, brokers, carriers, consolidators, intermediaries, ports, airports terminal operators, integrated operators, warehouses and distributors.
Ahmed Mahboob musabih, Director of Dubai Customs applauded this achievement and said: "It reflects Dubai Customs strategy and vision of boosting the UAE's reputation and supporting it on global competitiveness indexes through the innovation of new services and products to insure clients' happiness and attraction of more investments into the country".
On her part, Al Swaidi pointed out that Dubai Customs is the first customs department in the region to implement the AEO.
Al Firdan said: "This is part of Dubai Customs plans and vision to lead customs innovation worldwide. Winning awards is not an end it's a means to spread knowledge and improve the business".
The award was introduced in the year 2012 to encourage the extensive adoption of innovation.