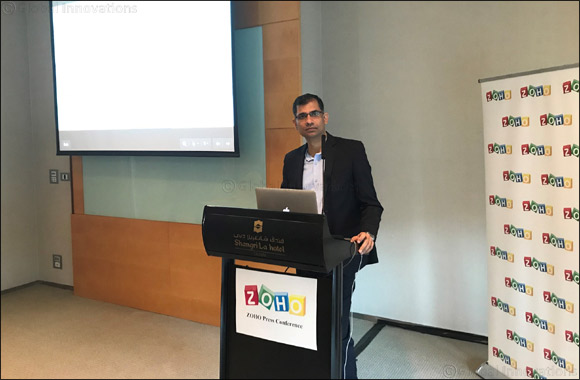 Designed for businesses in the UAE to automate accounting, invoicing, and other financial operations and be compliant
Dubai, November 29, 2017: Zoho, the leading information technology and business management software conglomerate has launched Zoho Finance Plus, UAE's first finance application compliant with the impending VAT roll out. Zoho Finance Plus is the UAE's first VAT-ready unified accounting and back office suite.
As business in the UAE prepare for the Value Added Tax (VAT) regime, Zoho's financial suite will help them with it's end-to-end integrated platform that gives business error-free accounting, hassle-free tax filing and visibility into their order and fulfillment process. Zoho's powerful software provides important insights to help businesses get a strong start into the VAT era.
Commenting on the product, Mr. Sivaramakrishnan Iswaran, Director of Product Management and Business Development at Zoho Corp, said, "With the impending VAT introduction in the GCC, the introduction of our VAT-ready finance suite comes at an opportune time. As a large-scale organization working towards the automation of financial needs of a company, we have researched and developed a complete package to help business get in line with the tax. With Zoho Finance Plus companies get a beautiful interface to manage their daily transactions as it creates a singular avenue for businesses looking for different accounting needs."
The Zoho Finance Plus suite includes an array of applications to enable businesses to transition and comply with the new tax introduction. Zoho Books – the accounting and invoicing software, Zoho Expense – the employee expense reimbursement software, Zoho Subscription - to automate the recurrent billing module for subscription based companies and Zoho Inventory for order management and fulfillment for retailers, all form the entire Finance Plus suite.
The all-inclusive finance suite handles the underlying complexity of VAT through its various applications. VAT law changes are automatically incorporated into the application without any manual intervention from the user. Zoho Books generates VAT-compliant invoices that include the taxes for every transaction, and even generates VAT returns automatically, cancelling the need for a separate tax filing application.
"With tightly knit applications integrated at the data level, and native smart capabilities baked in to drastically reduce data entry, automate and customize business processes, the Zoho Finance Suite helps a business maximize its input tax credit and avoid excess calculation of output tax liability," he added.
Speaking about the benefits of the entire Finance Plus suite, Mr. Iswaran said, "Being a cloud based software it provides usage flexibility to the user. It can be accessed through a phone or computer remotely. It creates a streamlined work process by ensuring every collaborator is working on the same data without even being in the same place. Its various applications work towards different aspects of businesses. The automation of orders and payments make it easier for companies to reach their customers faster by provide accurate and timely information about product availability, order status and payment."
Zoho Finance Plus is uniquely positioned to deliver flexible, scalable and secure applications with the depth and breadth to cover the needs of growing businesses. The integrated suite gives streamlines the back-office function for organizations.
Starting with the core applications for accounting, invoicing and expense management needs of businesses, the suite also prepares businesses for the subscription economy by offering applications that manage subscription-driven, recurring revenue streams. It even equips companies to fulfill multi-channel online sales orders with a single inventory model.