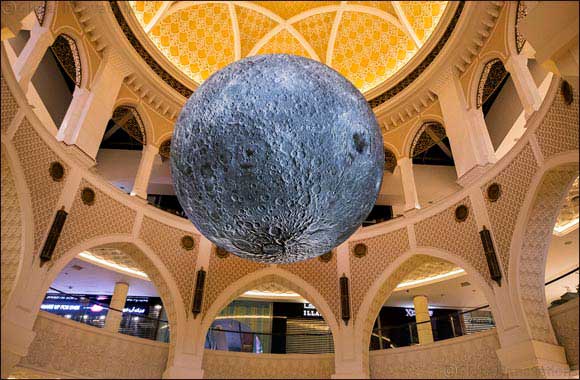 Dubai, UAE, November 28, 2017: UAE National Day celebrations at The Dubai Mall are not-to-be-missed, with a host of cultural activities, performances and giveaways, allowing families, friends and the community to come together to mark the 'Spirit of the Union.'
In collaboration with the Sheikh Mohammed Centre for Cultural Understanding, Emirati hosts will welcome visitors to the Souk Atrium which will be transformed into a cultural "majilis." Guests will be served traditional coffee and dates as they listen to stories of the UAE's culture and heritage.
Seated beneath a stunning 'Museum of the Moon' visitors can learn the importance of the moon in Emirati culture. An awe-inspiring touring artwork by UK artist, Luke Jerram, 'Museum of the Moon' measures seven metres in diameter – with each centimetre of the artwork representing 5km of the actual moon.
Adults and children alike will be entranced by Emirati Falconers, calligraphers, Henna artists and much more.
Further resonating the national spirit throughout The Dubai Mall, visitors will be invited to wear scarves and flags available at all Guest Services counters. Enjoy shopping and dining to the sounds of traditional national music, and watch The Dubai Fountain dance to the UAE National Anthem in a specially choreographed daily performance.
Under the patronage of Dubai Police, a unique art exhibition will also be held outside the entrance of Paris Gallery, showcasing the momentous occasions that have defined and formed law enforcement in the UAE.
Retail outlets throughout The Dubai Mall will be joining in the celebrations with young dancers performing from 4pm to 10pm at Patchi to free activities for kids at Hamleys. Shoppers can explore Bloomingdale's special pop-up with a range of the best local beauty products, and can taste delicious National Day popsicles, cakes and coffee at the many cafes and restaurants around the mall.
Visit The Dubai Mall this UAE National Day weekend to immerse in the rich heritage of the nation and enjoy free cultural activities. For more information, visit www.thedubaimall.com or call 800 DUBAI MALL (800 38224 6255).
What: UAE National Day celebrations at The Dubai Mall
When: November 28-30 and December 2-5, 2017
Price: Activities are free for all to enjoy