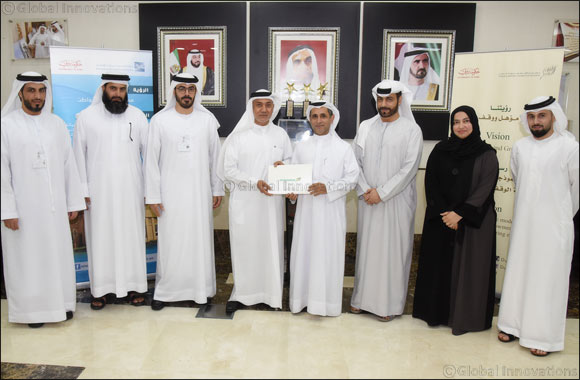 Dubai-UAE: 27 November 2017: Awqaf and Minors Affairs Foundation (AMAF) has donated an amount of AED400,000 to the Mohammed Bin Rashid Housing Establishment to help provide affordable housing solutions for the needy.
His Excellency Tayeb Al-Rais, Secretary General of AMAF, handed over the cheque to Mohammed Humaid Al Marri, Assistant Chief Executive Officer of Finance and Corporate Support at the Mohammed Bin Rashid Housing Establishment at AMAF's headquarters in Dubai.
The donation primarily falls within the purview of a Memorandum of Understanding signed between AMAF and the Mohammed Bin Rashid Housing Establishment in 2015. The agreement mandates the exchange of electronic databases, enabling access to data and information for the mutual benefit of clients. In addition, it seeks to achieve integration between government agencies and improve the standard and accuracy of government services provided to clients. The MoU also prioritizes the provision of residential stability to minors under the care of the Foundation, as well as the activation of public initiatives for the benefit of communities at large.
Tayeb Al-Rais, Secretary General of AMAF, said: 'At the Awqaf and Minors Affairs Foundation, one of our key focus areas is to provide adequate housing for citizens at an affordable cost. Our contribution reflects our appreciation of the Mohammed Bin Rashid Housing Establishment, which continuously works to promote sustainable development through aligning the actual needs of customers with their future aspirations."
He added: "All our efforts are designed to contribute to the achievement of the goals outlined in the UAE Vision 2021. We are equally committed to realizing Dubai's plan to shape a cohesive society and become a preferred place to live for people from across the world.'