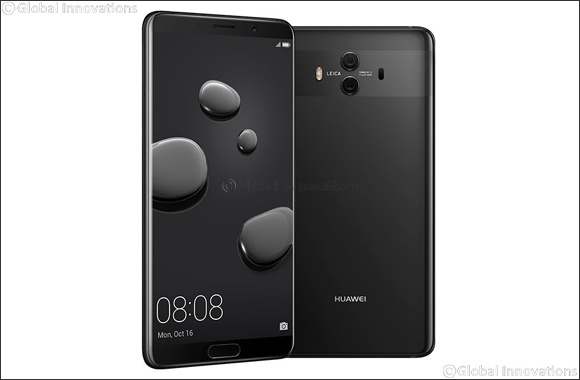 Abu Dhabi, 27 November 2017: Etisalat today announced the exclusive launch of the new Huawei smartphone Mate 10 across key Etisalat business centres and retail outlets across the UAE for as low as AED 100 per month and a standalone price of AED 2299.
Etisalat will also make available the Huawei Mate 10 Pro for all android fans in the country at AED 2999.
The Huawei Mate 10 and Mate 10 pro are the first devices powered by the new Kirin 970 processor and deliver Artificial Intelligence (AI) enhancements for a faster, more customized mobile experience. The Kirin 970 delivers 25x better performance and 50x greater energy efficiency for AI-related tasks. The Huawei Mate 10 Series also supports super-fast LTE connectivity and download speeds. The device comes with the world's first dual 4G SIM support and dual VoLTE connections.
By combining individual and collective intelligence for on-device AI, the new Huawei Mate Series delivers real-time responses to users, including AI-powered Real-Time Scene and Object Recognition and an AI Accelerated Translator. Kirin 970 is an open, mobile AI computing platform for third parties to create new and imaginative AI applications and which extends Huawei's processing capabilities to the entire value chain.
With an all-new Huawei FullView Display, the Huawei Mate 10 features a stunning 5.9-inch screen with a 16:9 display, barely-there-bezel and HDR10 to support vivid colors. The 6-inch Huawei Mate 10 Pro features an 18:9 OLED display, high screen-to-body ratio and HDR10 for dynamic video viewing.
The iconic devices feature a 3D Glass Body, beautifully and symmetrically curved on all four sides for an ergonomic hold. The back of the devices feature a reflective band design to highlight the New Leica Dual Camera. The Huawei Mate 10 Pro is also IP67 Water and Dust Resistant.
Khaled El Khouly, Chief Consumer Officer said: "With artificial intelligence gaining importance and being present in all aspects of daily lives, the new Huawei smartphones supporting this technology is quite a breakthrough giving our customers in UAE a unique mobile experience. As Etisalat brings this exclusively to our customers, they also get a first-hand know-how of the technology and the features in the device. They will continue to enjoy the devices with our convenient payment terms and the nationwide 4G network that gives them seamless mobile connectivity and turbo-fast usage speeds."
Subscribers can enjoy the benefits of the latest Huawei Mate 10 and Mate 10 Pro smartphones on the fastest and widest 4G/LTE network offering high-speeds of up to 300 Mbps that covers nearly 95 per cent of the country's populated areas. For further information and to purchase the Huawei devices online, customers can log on to www.etisalat.ae and get free delivery across the UAE.