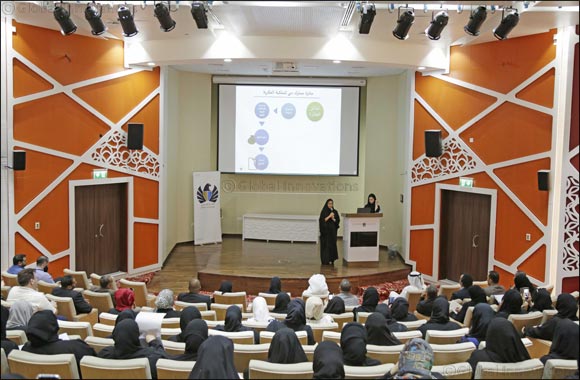 Dubai – 26 Nov 2017: Dubai Customs, in cooperation with the Ministry of education, has launched the 10th edition of its IP Award for Schools and Universities 2017-2018, in line with its IPR Department's plan to encourage full community engagement in IPR protection and to educate students on their intellectual rights.
Participants in the press conference pointed out that the Award aims at measuring the upcoming generation's awareness of IPR and educating the public about the risks of counterfeiting on consumers' health and the country's economy.
The press conference was held at the Ministry of Education's headquarters in Dubai in the presence of Dr. Amna Al Dahak Al Shamsi, Assistant Undersecretary for Activities Sector and Director of Innovation and Entrepreneurship Department at the Ministry of Education, Yousef Ozair Mubarak, Director of IPR Department at Dubai Customs, and Mahbouba Baqir, Manager of Awareness and Education Section at IPR Department.
Dr. Al Dahak hailed Dubai Customs raising awareness activities that spread the knowledge about the importance of protecting intellectual property. She also pointed out the Ministry's efforts in enticing creativity amongst its students for more national development and progress.
In the press conference Ozair thanked the Ministry of Education for their active involvement and support to this award.
He added: "The launch of the tenth edition of this award is a continuation to our success in the last years' editions. We have been raising awareness amongst students around the perils of counterfeit products through the award for the last ten years. This is part of an internal culture within Dubai Customs inspired by the wise vision and directives of His Highness Sheikh Mohammed bin Rashid Al Maktoum, Vice President and Prime Minister and Ruler of Dubai".
More than 165,800 students from 172 schools and 30 universities participated and benefited from awareness campaigns that accompanied the award from its launch until the end of Q3 2017.
On her part, Mahbouba Baqir said the IPR Department launched "Ambassadors of Intellectual Property Rights" at the beginning of the academic year 2016-2017 to encourage students organize their own IPR awareness campaigns.
Dubai Customs sponsors the annual Children's International Film Festival and awards the winning films.