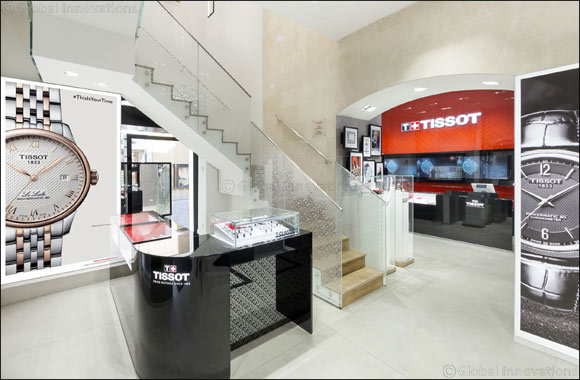 Dubai, UAE, November 26,2017: Tissot expands its retail network with the new boutique located close to the luxury addresses of the capitol city, at 167 Via del Corso, in the Boncompagni Ottoboni Historical Palace of 1731.
The new spaces create a new generation concept that accompanies the customer through an evocative path of the Tissot tradition of innovation since 1853.
140 square meters, divided into two floors, offer ample exhibition surfaces that expand the choice between the brand's sports, classic, feminine and technological lines to meet a growing demand from customers.
On the ground floor, the exhibition of new collections marries with the state-of-the-art design that, while continuing on its path, leaves room for a more vintage environment, a trip to the past to rediscover the origins of the brand represented by the Tissot collections Heritage.
The large arched windows overlooking Via del Corso and Via della Vite allow passers-by to admire the different collections. The new Tissot Ballade, with the revolutionary Powermatic 80 movement characterized by the silicon spiral, Tissot Everytime, the utmost expression of the brand's democracy with its new Swissmatic movement and Tissot Chrono XL, is a new, urban, contemporary sports clock at the same time.
Customer service
Tissot takes care of its customers not only by accompanying them in choosing their own products but also by providing them with special after sales service. On the first floor of the store, it is possible to use an exclusive Customer Service service that, through a watchmaker station, is able to guarantee the highest quality in maintenance work, the result of the witty handicrafts of Swiss tradition.
The space is also equipped with a large and comfortable Vip lounge for events and special installations.
Care for detail
Just as the watchmasters in Le Locle's home care for the detail of every single watch, the same attention is evident in the study of the new Tissot Boutique, such as the traditional showcase safe that resumes the design of the T -Touch Expert Solar.
The new Boutique in Rome is enriching the already large retail panorama Tissot, which today consists of 358 boutiques divided into 70 corporate and 288 franchises and distributed in 39 countries around the world.