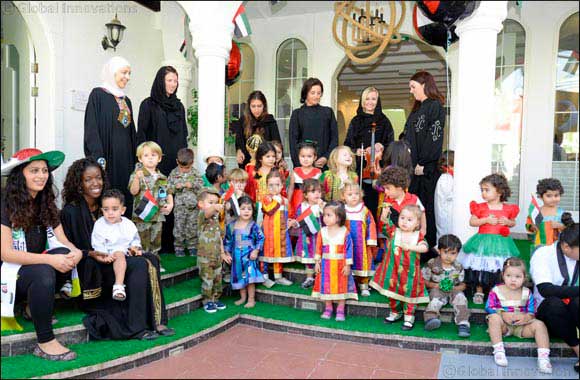 Masterminds Nursery & Kindergarten emerges as a global destination for education and learning
Dubai, UAE, November 26, 2017: While the entire nation gears up for the upcoming National Day, tiny tots from Masterminds Nursery & Kindergarten are all ready to flaunt their Arabic skills. The move is a part of an effort undertaken by the school to promote Arabic language skills ahead of the upcoming National Day.
Masterminds Nursery & Kindergarten offers enrichment programs that integrate languages as a key tool in child development to create intellectual, physical and social excellence, in children age eighteen months to six years. The educational institution offers Frenchtri-lingual immersion in English, French and Arabic. The school has crafted a special Arabic program according to the pace of the child to provide extra support to non-Arabic speaking students. 2 - 4 year old students, including Western expats, are able to read customized Arabic books made in the class and are ready to showcase their talent on National Day.
'At Masterminds Nursery & Kindergarten, we offer varied language programs to our students to set the foundation for critical thinking, attaining new knowledge, and preparing the students to go out into the world as leaders of the next generation. Arabic is also a part of our language programs, however, this year the school was on a mission to develop a customised program for non-Arabic speaking students to help them master the language ahead of the upcoming National Day. The topics are not just classroom chapters and are designed to give them an overview into practical experiences which allows them to speak and understand the language fluently," said Tania Siddiqi, Director of Masterminds Education.
In addition to language programs, Masterminds Nursery & Kindergarten also offers students a holistic curriculum comprising of learning to play the violin, gymnastics and swimming, as well as enrichment programs that ensure all children can read fluently, do maths and have exceptional knowledge, physical and social awareness, by the age of six. These have been proven to be the building blocks of a strong, well-rounded childhood – and beyond, into a successful adult life.
"UAE today is home to a number of well-established schools, and has championed the education system due to the focus of the country's leaders on high-quality education in line with vision 2021. While the UAE Government's efforts to undertake significant reforms in the education sector are fundamental to its ambition for an economic framework driven by creativity, knowledge, and innovation, we at Masterminds Education aim to support this commitment of the Government by integrating leading edge global innovation into our curriculum," added Tania Siddiqi.
Aligning with the country's vision of building a ¬robust knowledge and innovation driven economy, Masterminds Education was recently awarded an honour as 'International Game Changer in Education' at the ACQ Global Awards. The award, which recognizes innovation and excellence are divided into company, practice area, individual and firm-wide categories within the public & private sectors. The educational institution has won several awards in the past including 'UAE's Best Early Years Education Provider' and Global Award for 'Best Early Learning Services' for its one-of-a-kind Nursery & Kindergarten offering.