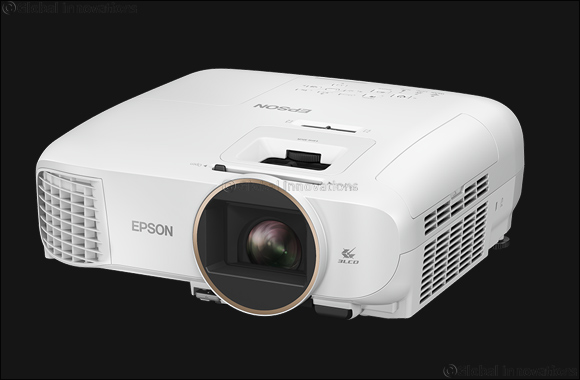 Discover big-screen features at an affordable price
Dubai – UAE; 26 November 2017: Epson continues to make world-renowned projector technology affordable for the domestic market with its new range: EH-TW610, EH-TW650, EH-TW5600, and EH-TW5650, EB-S05, EB-X 05, EB-U05, EB-S41, and EB-X 41.
Jason Whiley, director of sales, Epson Middle East, says, "Our latest range of projectors has been carefully curated to ensure we deliver a great range of features at the right price for every type of consumer. The EH-TW610, EH-TW650, EH-TW5600 and EH-TW5650 are pitched at home cinema and entertainment enthusiasts. There's some standout features included within the range: the addition of lens shift (EH-TW5600 and EH-TW5650), Miracast and screen-mirroring (EH-TW5650) and built-in Wi-Fi (EH-TW610 and EH-TW650). We've also got a fantastic selection of projectors for anyone trying to juggle home and work needs with EB-S05, EB-X05, EB-U05, EB-S41, and EB-X41. These offer a range of resolutions, optional Wi-Fi and little extras such as a carry case (EB-S41 and EB-X41)."
From family and friends to business colleagues and clients, this range of projectors is sure to get everyone's attention with expansive displays reaching up to 300 inches. The large screen size is matched by its quality with 3LCD technology making the display up to three times brighter than competitor products . Even in sunny rooms, these powerful yet affordable projectors deliver exceptionally bright yet colourful images with clear details. It's a result of the 3LCD technology producing an equally high White and Colour Light Output from 2,500 to 3,600 lumens. Ensuring a well-balanced image, the high contrast ratio produces defined shadows and deep blacks.
For a truly immersive experience, movie lovers will appreciate Detail Enhancement and frame interpolation (EH-TW5600, EH-TW5650). It provides more fluid action and reduces motion blur in fast moving scenes, resulting in smoother and sharper images.
The whole range of projectors is easy to get up and running with keystone correction to quickly position the image. The EH-TW5600 and EH-TW5650 also come with a 1.6x zoom and vertical lens shift, for an ever faster and more refined set up. Accessing content is fuss free with a single (EB-S05, EB-X05, EB-S41, EB-X41) or double HDMI input (EH-TW610, EH-TW650, EH-TW5600, EH-TW5650, EB-U05) for connecting DVD players, games consoles and more. A carry case is provided with selected models (EB-S41, EB-X41), making it easy to move the projector.
Thanks to the incredibly long lamp life, the projectors offer up to 15 years' worth of entertainment . It means they're a long-term, affordable and hassle-free solution for anyone's projection needs.
Many of the projectors offer Wi-Fi connectivity with it either built-in (EH-TW5650, EH-TW610 and EH-TW650) or via an optional ELPAP10 adapter. With Wi-Fi enabled projectors, it's easy to share content from a smart device using the free iProjection app.