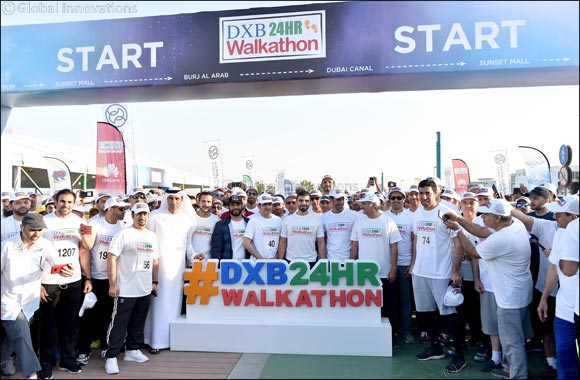 Dubai, UAE, November 23, 2017: His Highness Sheikh Mansoor Bin Mohammed Bin Rashid Al Maktoum, President of the Dubai International Marine Club, led a star-studded line-up for the start of the Dubai Sports Council's DXB 24HR Walkathon on Thursday morning, as hundreds of enthusiastic hoi polloi mingled with top Dubai Government officials and Emirati celebrities at the second edition of this unique community-focused event.
Sheikh Mansoor was joined at the 7.30am start by His Excellency Saeed Hareb, Secretary General of Dubai Sports Council (DSC); Major-General Abdullah Khalifa Al Marri, Commander-in-Chief of Dubai Police; Major General Mohammed Ahmed Al Marri, Director General of the Department of Naturalisation and Residency Dubai (DNRD); and Major General Obaid Muhair Bin Suroor, Deputy Director General of the General Directorate of Residency and Foreigners Affairs (GDRFA) Dubai and Chairman of the Standing Committee for Labour Affairs.
Dr Abdulla Al Karam, Chairman of the Board of Directors and Director General of the Knowledge and Human Development Authority (KHDA), was also there at the starting line-up along with a number of other chiefs of Dubai Government entities, namely HE Abdulrahman Al Saleh (Director General of the Department Of Finance and Chairman of the Board of Directors of Dubai Financial Support Fund), HE Khalifa Bin Dray (Executive Director of Dubai Ambulance Services Corporation), HE Helal Saeed Khalfan Al Marri (Director General Department of Tourism & Commerce Marketing), HE Ahmed Mahboob Musabih (Director of Dubai Customs), Dherar Belhoul (General Director of Watani Al Emarat Foundation), HE Sami Al Qamzi (Director General of the Department of Finance), Ahmed Julfar (Director General of the Dubai Community Development Authority), and Major General Rashid Thani Al Matroushi (Director General of Dubai Civil Defence).
Major General Mohammed Saeed Al Marri, Director of Community Happiness at Dubai Police, Marwan bin Ghalita, President of the UAE Football Association, and Emirati CEO and celebrities like Mr Khalaf Al Habtoor, Sultan Bin Mejren, Fayez Al Saeed and Faisal Al Jassim also took part in the Walkathon.
"We thank all the participants from the different government and private entities, and, of course, the individual participants, because together, they make this Dubai 24 Hour Walkathon a truly unique event on your sporting calendar," said Nasser Al Rahma, the Assistant Secretary General of DSC.
"The Walkathon is a celebration of our diversity, because today we have seen participants from many different countries, including visiting holidaymakers, from different age groups and different strata of society.
"We are really pleased to see this, because that is our focus – to bring the different sections of the community for a day of healthy fun.
"With the guidance and support of His Highness Sheikh Hamdan bin Mohammed bin Rashid Al Maktoum, Crown Prince of Dubai and Chairman of The Executive Council of Dubai Government and Dubai Sports Council, Dubai has become a truly vibrant place, challenging and encouraging everyone to take up regular physical activity.
"Dubai today is a model for other cities on how to encourage its diverse population to adopt sports, or any other physical activity, as part of their daily routine, especially after this overwhelming success of the Dubai Fitness Challenge 30x30, and this Walkathon aims to keep that positive image going."
Around 2,000 people took part in the second DXB 24HR Walkathon, which will finish at 7.30am on Friday after four loops of a dedicated 25km route past some of Dubai's most iconic landmarks, including the Dubai Canal.
Starting from behind Sunset Mall, the participants walked down the Beach Road to Burj Al Arab before making a U-turn. The route then took them down to the edge of Dubai Canal, into Al Safa Park and then to Marasi Business Bay, from where they turned back for the Sunset Mall.