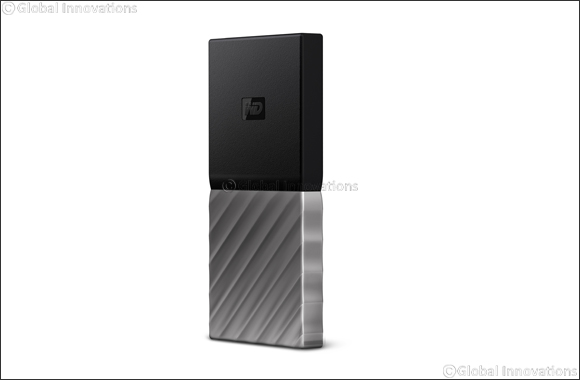 Western Digital Will Be Showcasing Their Premium Products at The First Ever Games Con in Abu Dhabi 2017
23rd November 2017, United Arab Emirates: WESTERN Digital Corporation is showcasing their market leading range of storage technology at the first ever gaming convention: Games Con 2017 in Abu Dhabi, United Arab Emirates. From 23-25 November, visitors will have access to state-of-the-art storage devices from WD and Sandisk that are ideal for every gamer. The select range of first class products includeWD My Passport SSD, WD Blue SSD, SanDisk External SSDs, and SanDisk Extreme microSD card with A1.
Western Digital is giving their fans a chance to test drive their latest products and storage technology at the Middle East's first and biggest gaming event- Games Con, from the organizers of the Middle East Film and Comic Con (MEFCC). The convention is expecting to welcome more than 15,000 people during the three-day event, held in Abu Dhabi National Exhibition Centre. In addition to gaming, the Games Con is of course also a sign of hardware, and that's more than reason enough to visit Western Digital at Games Con for an experience of some of their latest products.
"We are incredibly excited to participate in Games Con Abu Dhabi 2017. Not just because it is the biggest convention for gaming, but also because it is the first one in the Middle East. We are looking forward to displaying our range of products that provide reliable, responsive and high-performance storage for gamers. By offering solid state technology with, we endeavor to enhance our customers' storage experience," said Tareq Husseini, Regional Sales Director, Middle East & Africa, Western Digital Corporation.
There truly is an ever-evolving need for video gaming technology and with technology advancing every day, so are games as well as their quality and digital information. The need for storage is continuously growing and requiring more space than before from gamers.
During Games Con 2017, gamers will get easy access to path-breaking WD and SanDisk products that are designed to maximize the fun and experience of today's gamers and tech-savvy users.
Key products that will be showcased during Games Con:
WD My Passport SSD is the fastest My Passport drive to date with speeds up to 515MB/s using the USB Type-C port to rapidly transfer data.
WD Blue SSD offers optimized storage with blazing speed and leading-edge reliability. WD Blue SSDs are available in 250GB, 500GB, and 1TB capacities.
Global data storage technology and solutions leader, Western Digital continues to push technology boundaries and transform the way consumers use their mobile devices. They offer Extreme microSD card with A1 that are built tough for extreme durability under challenging environmental conditions.
A compact external SSD is a great solution for capturing large files. The SanDisk Extreme 500 Portable SSD is an external SSD with a storage capacity of no less than 1 TB. In addition, is less than half the size of your smartphone and delivers up to 4x the speed of a portable hard. The SanDisk Extreme 510 Portable SSD combines the performance of a portable SSD with all-terrain durability and water resistance. With capacity of up to 480GB* and read speeds of up to 430MB/s6, your transfer times are dramatically reduced compared to those of typical hard disk drives, even when moving high-res files.