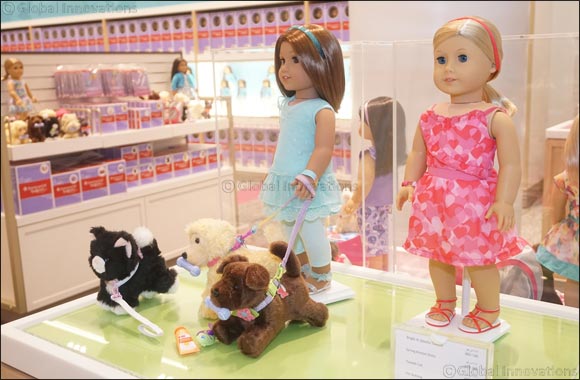 The brand new American Girl store has officially opened at City Centre Mirdif
This is American Girl's first location in Dubai and outside of North America
American Girl is hosting a launch event open to all on Friday, November 24th
Dubai, United Arab Emirates, 22 November 2017: Majid Al Futtaim, the leading shopping mall, communities, retail and leisure pioneer across the Middle East, Africa, and Asia, today announced that American Girl, the premium brand loved by girls everywhere, has officially opened its doors in the UAE! The brand new store at City Centre Mirdif is American Girl's first location in the region and first to open outside of North America.
The new American Girl will offer all of the store's fan-favourites. This includes a complete assortment of the popular historical and contemporary dolls, along with a selection of doll outfits, accessories, Dress Like Your Doll® clothing, and the company's best-selling books. Also, for fashionable youngsters, the store features a "Creativi-tees" boutique, where girls can create stylish T-shirts for themselves and their dolls. The store is also equipped with unbeatable party packages, making it the perfect destination to celebrate birthdays and other special occasions.
Commenting on the launch, Cameron Mitchell, Interim Chief Executive Officer, Majid Al Futtaim – Leisure & Entertainment, said: "We are delighted to have partnered with American Girl and be part of launching their very first store in the region! With its strong ideals, personality, and retailtainment elements, the iconic brand provides engaging and immersive retail experiences, making it the perfect addition to the Majid Al Futtaim – Leisure & Entertainment family. We continue to encourage our guests to share great moments together, and we are very excited to bring the befitting American Girl experience to residents in the UAE. We look forward to spreading American Girl values that inspire and empower young girls across the GCC!"
Katy Dickson, president of American Girl, American Girl, said: "For over thirty years, American Girl has been inspiring young girls to be strong, confident, and proud of who they are. Through our unique characters, publications, and retail experiences, we hope to instil strong values in women from a young age. This is something we are thrilled to expand into the Middle East. Over the years, we have attracted a dedicated international audience and we are excited to better cater to them, with the help of Majid Al Futtaim – Leisure & Entertainment!"
To celebrate this key milestone, American Girl will be hosting a spectacular launch event on Friday, November 24th at the City Centre Mirdif store location. The event will feature exclusive experiences, tasty treats, and pampering perfection for all guests and their little ones!