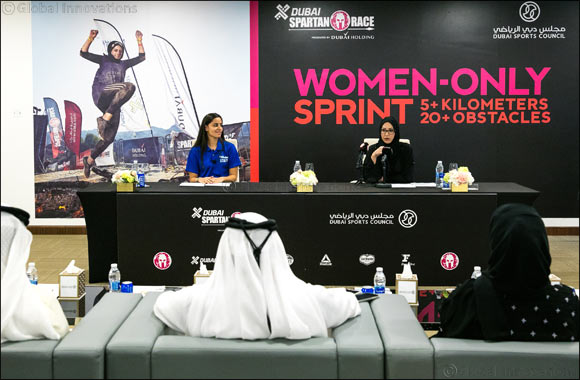 Dubai, UAE, November 21, 2017: Women's sport in the Middle East is set to receive another boost following the announcement of the region's first dedicated Spartan race for ladies.
The team of Dubai Sports Council, Spartan Arabia, XDubai and Dubai Holding are joining forces again, following the first-ever Spartan Middle East Championship in Hatta earlier in the month, to bring the Middle East's first Women-Only Spartan Sprint, which will be held at the Jebel Ali Race Course on December 16.
The dedicated Spartan Sprint comes close on the heels of the Dubai Women's Triathlon – the region's first such event of its kind, held earlier in the month.
"There is an increasing focus on the empowerment of women in the country, and we at Dubai Sports Council are following the lead of our visionary leaders and encouraging women to take up an active and healthy lifestyle, and creating opportunities for them to pursue their sporting aspirations," Hessa Al Kous, Director of Sports Events at Dubai Sports Council, said at Tuesday's press conference to officially announce the details of the event.
"We organised a women-only Triathlon earlier this month and it was a big success, showing there is a need and a demand for such women-only sporting events in the country, especially of the endurance sports type.
"So we are really looking forward to this first-ever women's Spartan Race in the Middle East. We have already seen how popular the Spartan series is among women when we hosted the Spartan Middle East Championship in Hatta just over a fortnight ago.
"There were a lot of ladies in Hatta and I am sure they will all be back for this race and use this great opportunity to become a part of Spartan folklore in the region."
The race is open to ladies aged 15 and above, and the participants will face 20 signature Spartan obstacles over the 5km course – the shortest distance in the Spartan Series.
"The Sprint we are offering at our first ever Women-Only race may be our shortest distance, but is still a favourite amongst both new and returning racers," said Julia Al Jenabi, the Marketing Manager of Spartan Arabia.
"It is the perfect distance for those looking to start their Spartan journey. The Sprint also allows returning racers a manageable distance to see how far they can push themselves."
The registration process has already started, but with only 1,000 tickets available for the race, latecomers could likely face disappointment.
"I would like to use this opportunity to thank the team of Dubai Sports Council for all their efforts and support and we are excited to work on this first ever Women-Only Spartan race together," added Al Jenabi.
"We are looking forward to the participation of a variety of women from different countries and backgrounds, showcasing the beauty of this diverse nation we all live in, and we are looking forward to expanding our efforts on providing opportunities and challenging sports events to women in the UAE and beyond."