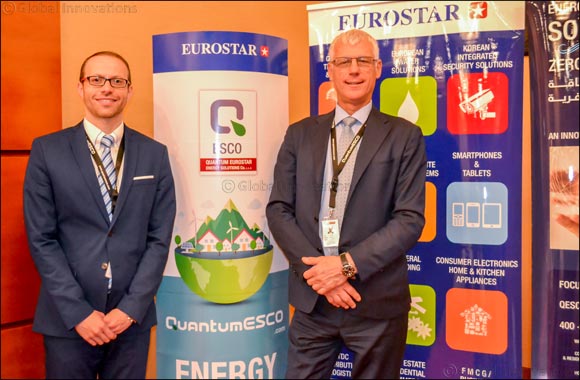 Quantum Eurostar, a leading accredited ESCO in the UAE, has signed an agreement with Etihad ESCO, the energy efficiency and saving arm of the Dubai Electricity and Water Authority.
Dubai- November 21, 2017: Quantum Eurostar Energy Solutions Company (QESCO), a leading accredited ESCO in the UAE, announced ESCO projects in the UAE to undertake innovative energy management solutions projects. QESCO is a joint venture between the EUROSTAR Group, the leading technology innovator in the Middle East and Quantum, an Italian Energy Expert Company.
QESCO has also signed a major eight-year period contract with Etihad ESCO, the energy efficiency and saving arm of DEWA. Quantum Eurostar will provide energy saving solutions to some of Dubai's iconic golf courses – Dubai Creek Golf and Yacht Club, Emirates Golf Club and Dubai Golf Residence.
The total energy and water savings during the project period is expected to be AED 35million. The accumulative carbon footprint reduction is 36,000 tonnes by end of the project period. The project will produce solar energy by installing roof-top solar system, where the capacity will be 677kW and the generation is 1,093,000 kWh per annum. Quantum ESCO will save AED 4,422,000 per annum.
Quantum Eurostar is undertaking the first energy saving retrofit solution catering to the hospitality, leisure and entertainment sector in the UAE. The retrofit ESCO solutions will be applied on air-conditioning systems, internal lighting, external lighting, golf course lighting, building automation and control, building envelop, ventilation, pumps and fans, water systems and solar roof-top.
Commenting on the project, Mr. Raju Jethwani Group Chairman of EUROSTAR Group, said, "We are pleased to announce our agreement with Etihad ESCO. This project is the largest of its size and we are happy that Etihad ESCO found the most suitable partner in us. The project will set new benchmarks in delivering ESCO projects in general in the region, and the hospitality and leisure sectors in particular. "
Mr. Stefano Martini, CEO and Managing Director of Quantum, said, "At Quantum, we have been at the forefront of designing and executing energy saving solutions across industries. With our partner Eurostar, we aim to bring to this region our tried and tested capabilities. It gives me immense pleasure to be working with Etihad ESCO on a prestigious project. Over the last year, QESCO has been working with various government and private organizations across the region. In the near term, we aim to announce new project wins in this space."
"We understand the need for energy saving. Through our initiatives we hope to bring a revolution in the energy saving sector and bring in changes. Our passion for a cleaner and healthier environment has led us to introducing various initiatives and aspects in energy saving. We hope to continue to build and act on this", he added.
QESCO instills best practices of ESCO programs. The cloud based measurement and verification medium is used to share saving results with customers and QESCO's Energy Analytics and Reporting Platform enables its customers' global supervision and multi-site energy data collection. The platform analyzes and compares the energy efficiency of the new system with the legacy one.
The platform also has an all-in-one console data supervision to understand the energy profiles of different geographically located sites. This also ensures unified alerting for all sites, and the energy consumption data is available online. The platform's service level agreement ensures high availability standards while the cloud system architecture delivers real time data and a responsive environment on virtually any mobile device.