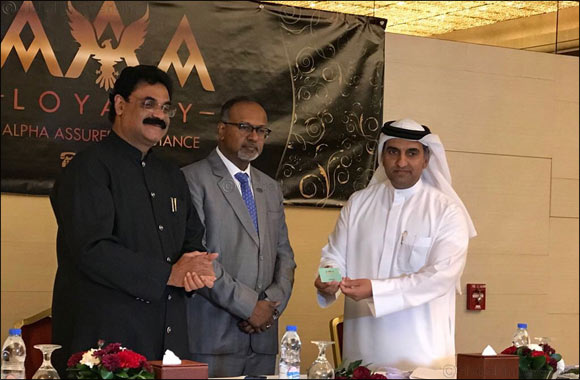 AAA Loyalty Program features over 50 partners and offers 98 per cent free benefits to its members.
AAA Loyalty Program aims to have 10,000 members registered before the end of 2017 while 2018 will oversee over 100,000 members and beyond.
United Arab Emirates, Dubai, November 16th 2017: With customers looking for more flexibility and value for money, there's been a stark rise in the loyalty landscape in the UAE, according to Mr. John Jacob, Director – Alpha Assured Assistance (AAA) Loyalty Program.
Speaking at the launch of AAA Loyalty Program, Mr. John Jacob said, "Most people think of loyalty programs as discounts or points that a restaurant or a brand offers to their customers. However, a loyalty program is more than just points. It not only offers customers convenience and flexibility, but also makes their lives easier and happier by providing them value for money."
Powered by the Transworld Group, AAA Loyalty Program is a newly established Loyalty Program which offers 98 per cent free benefits to its members. Implementing ethical business practices, the Loyalty Program has over 50 partners offering world-class services into healthcare, utilities, automotive, education, entertainment, shopping, water sports, travel holidays, food & dining among many others.
The AAA Loyalty Program is garnered in such a way it caters to Individual, Family and Corporate needs and is conveniently spread across three segments, Silver, Gold and Platinum memberships, each offering a set of distinguished benefits. The AAA Loyalty program features partners as Aster Clinics, Clear trip, Mahindra Holidays, Dubai Dolphinarium, JMM Group, Wall Street Exchange, Quick Pit, Wild Wadi and VLCC Wellness among many others. AAA Loyalty Program not only offers customers quick accessibility and choice, but also puts customer experience back at the heart of loyalty.
According to a retail industry report, the global loyalty management market has been valued at USD 1.56 billion in 2015 and is projected to reach USD 4.71 billion by the end of 2020 growing at a CAGR of 24.73 per cent.
"Loyalty programs are a great way to encourage customers to return to a business and potentially attract new business. This not only increases customer loyalty but it increases sales. Beyond increased customer loyalty and increased sales, loyalty programs can provide incredibly valuable data to merchants. As such, AAA Loyalty Program is designed to engage with the customer, nurture existing relationships, improve the existing customer experience and satisfaction levels and increase customer retention and impact the bottom line of the business positively," said Mr. Ramesh Ramakrishnan, Chairman of the Group.
In the UAE, loyalty has also become an effective tool to engage with customers, and AAA Loyalty Program aims to tap on this mechanism to benefit the customer as well as the merchants. To be available across all emirates in the UAE, AAA Loyalty Program aims to have 10,000 members registered before the end of 2017. Going forward, the exclusive Program will also be available in regional and international markets which will oversee over 100,000 members and beyond by2018.