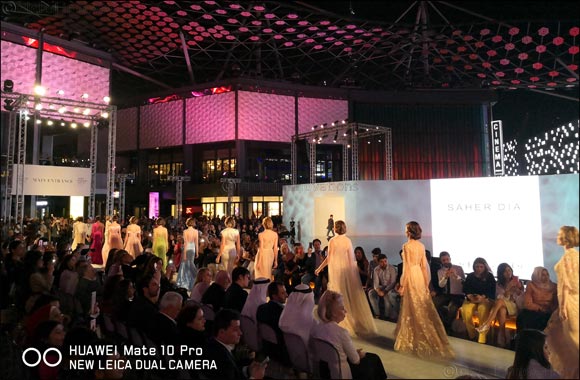 Fashionistas trend on accessorizing with innovative Mate 10 Pro smartphone
Dubai, UAE, November 16, 2017: It's all about accessorizing! So goes the mantra of every stylist on the planet. Everyone said the right shoes and bag and jewelry can make an outfit - and for a long time, it was certainly true. However, that was before the arrival of the smartphone.
Now your smartphone is your first and foremost accessory, and has transcended from a mere accessory to an extension of the self. Today, you don't just carry a phone, you wear it. More importantly, it's about how you use your device to make a style statement, whether by snapping your OOTD look (Outfit of the day), or sharing the latest looks of the season from the front row of Arab Fashion Week.
Leading smartphone maker Huawei understands a fashionista's need to make a statement with her smartphone. As the official technology partner for the 5th Edition of Arab Fashion Week, Huawei is all set to show off its style with its Artificial Intelligence-powered Mate 10 Pro phone that pairs intelligent technology with innovative fashion.
The sleek and stylish model with its 3D glass body not only makes a voguish statement, it also brings to life every girl's dream of professional quality photography. Lightweight and perfectly portable, the Mate 10 Pro camera replaces traditional photography equipment, producing high-quality images with its intelligent camera. In fact, all official photos taken at Arab Fashion Week this year will be shot with the Mate 10 Pro
Whether you're a designer, model, professional stylist or an enthusiast in the audience, the Mate 10 Pro understands the demands of the fashion world. The phone's dual camera technology, thanks to its partnership with renowned camera maker Leica, captures intricate design details, and beautiful, rich and vibrant colors, delivering true to life picture quality. The intelligent camera will automatically adjust and adapt its light, scene recognition and motion-detection settings to the various moods of the runway lights and the movement of the sashaying models to ensure you don't miss documenting those important style moments.
And just as designers in the fashion world innovate and create their showstoppers for the season, the Mate 10 Pro is set to lure fashionistas with its most flashy feature – it's unprecedented battery life. Providing the biggest battery on a premium smartphone, the Mate 10 Pro delivers more than two days of normal smartphone usage, which both designers and divas know is pivotal to powering through and trending in the fashion world.