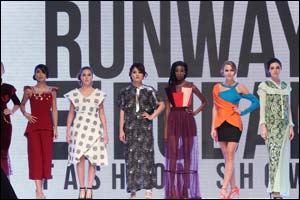 From stretched Limousines to Uber rides, Runway Dubai has raised the bar even higher as they wrapped up their 5th season on the palm island in Dubai.
"It is not about the glitz and glam", like they always say, the initiative is all about nurturing talent, discovering creative artists, opening doors for healthy collaborations, and networking in the fashion industry.
The highly-anticipated fashion talent competition had finalists from Bhutan, Fiji, Pakistan, Philippines, Syria, and the United Arab Emirates.
Syria's Yasmine Mamlouk whose inspiration comes from the city of Aleppo, explained how to literarily fix the cracks from broken pieces of the city, to make them look beautiful again. It was a comforting message that resonated with our star-studded panel of judges, all in the fashion and media industry. Miss Universe Lisa Lazarus, Miss Cameroon Valerie Ayena, TV personality, Zeina Yazigi, and Miss India, Prachi Mishra. Following Yasmine closely, was Pakistan's Ayesha Jabeen (2nd place) and Mehmood Ur Rehman (3rd place) both students from the GIFT university in Pakistan.
As usual, the designers chosen on the platform were exceptional, each bringing the message of diversity and creativity.
Lebanese designer, Walid Atallah displayed his never- before-seen spring 2018 collection with a choreographed session that included Men's wear, laced leotards, evening wear, and wedding gowns.
Hungarian/Middle Eastern designer Szandra Akkach from the brand Larimar by Szandra, flooded the runway with stunning models from different nations, who wore her themed collection, inspired by illusions of crystal clear waters of the Caribbean islands, to the seven shades of the blue sea.
French designer Mounia El Hsaini released her new line of luxury Moroccan Kaftans. She opened the third day of the show with wedding inspired kaftans made from rich velvet fabric with silk, and carefully hand woven embroidery.
Nigeria's Lia Ogan released her very first ready-to-wear collection inspired by feathers and ruffles. Her collection revealed her bubbly personality, as she danced on stage during her finale, to Will Smith's "get jiggy with it".
Asanda Mali, brought a contemporary message to the U.A.E fashion scene. Asanda's exotic plus-size collection made with African prints, received repeated applauds from guests. The very emotional designer was overwhelmed by the positive response, and her well received message of "fashion is fearless". Wearing what you desire, should not be an element of your shape or size.
Carlos Fritz, also from South Africa, joined our fashion tourism campaign along with Samah Shublaq from Palestine, who previously won third place during the Runway Dubai fashion competition in 2104.
The campaign which was well received, and rapidly growing amongst designers, is an original initiative by the Runway organizers.
It was established to create awareness in the tourism industry, using social affairs and culture as inspiration for creativity.
The winner of last year's fashion talent competition Amneek Bhattessa from New York, revealed her stunning debut pieces for spring 2018.
Performances from newly discovered talents from across the world, Australia's Blake Rose, India's Siya Arora, and U.K's Julie Joseph, brought the house down with their performances.
This very inspiring event will be back for its 6th season with a whole new exciting initiative which will be announced in January.
For more information, please contact Lisa Hanna at pr@runwaydubai.com