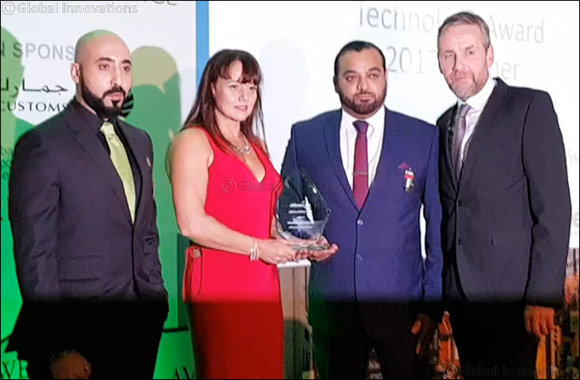 Dubai – 15 November 2017: In a big step forward, Dubai Customs enhanced its worldwide competitiveness in (Corporate Innovation Management system ( by attaining the seven-star rating from Ideas UK in their evaluation of the 8th platinum accreditation in which the Department's Corporate Innovation System got the full mark; 100/100 for the fifth year in a row.
Dubai Customs has become the first government Department in the world to win this seven-star rating. The new rating was granted to Dubai Customs in the 31st Ideas UK award ceremony which was held in Stratford Upon Avon, UK on 8-9 November 2017.
Bin Sulayem commented on this achievement: "It's no stranger to Dubai Customs to innovate and come up with new winning ideas within its efforts and journey to facilitate trade and movement of cargo and passengers. We are always inspired by the vision of His Highness Sheikh Mohammed bin Rashid Al Maktoum, Vice President and Prime Minister and Ruler of Dubai which aims at making people happier and helping Dubai always stand out from others in support of the UAE's national development plan and vision in fulfilment of 10X and UAE Centennial 2071".
On his part, Ahmed Mahboob Musabih, Director of Dubai Customs reaffirmed the Department's keenness in keeping the pace moving forward and supporting innovation at the workplace. We have gone long way in the innovation journey to facilitate trade and reduce time and effort to enable passengers and traders to enter their cargo easily and in a short time".
The platinum rating is granted based on the efficiency of the corporate innovation management system which should score 90/100 at least in more than 50 standards including legislative and financial governance.
Hussain Al Fardan, Senior Manager of Dubai Customs' Innovation Center explained that reaching this great level is the fruit of the staff's collaborative work and their positive attitude and team spirit.
"The Department encourages new ideas and adopts the best work practices to help Dubai maintain such a high status. This award urges us to keep the good work in order to always be an example to follow as a world leading customs administration".
Dubai Customs has recently bagged five awards in Ideas America which was organized in Arizona, USA in 12-14 September 2017. This year, Dubai Customs has earned 9 awards so far including the Best Idea at the World Ideas Awards in Frankfurt, Germany. International ideas associations are non-profit associations that encourage innovation and development.