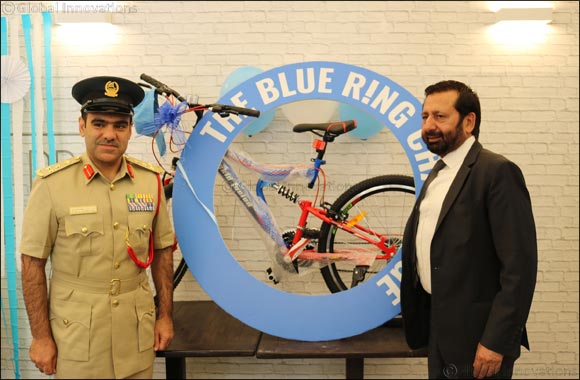 The "Blue Ring Challenge" mass screening and charity initiative inaugurated by Dubai Police Head of Medical Committee
Register online and get diabetes screening worth 700 dirhams for just 1 dirham
For each screening and registration, the center to donate Dhs 1 to charity
Just 15-20 minutes of exercise can drop the sugar level by approximately 20 percent in diabetic patients
Win lucky draw prizes like IPhone X, Smart Gear, bicycles and family annual health checkup vouchers.
November 15,2017; Dubai, UAE: To commemorate World Diabetes Day, Dubai RAK Diabetes Center kicked-off a month long campaign against diabetes for Dubai residents, with an aim to create awareness on the importance of exercise to lower sugar levels. The 'Blue Ring Challenge' was inaugurated by Brig. Dr Ali Singel, Head of Medical Committee, Military section Dubai Government, Director of Dubai Police Medical Services, at the Diabetes Center. Visitors at the premises also availed free random blood sugar screening to find for themselves the positive effect of physical exercise on sugar levels.
The campaign also offers a comprehensive diabetic screening – worth AED700 – for just AED 1 when residents register online for the screening.
The Blue Ring Challenge practically demonstrates how regular exercise can help reduce sugar levels by testing the levels before and after some physical activity. At the end of The Blue Ring Challenge on 14th December, all those who registered and /or screened will have a chance to win mega prizes such as IPhone X, Smart Gear, sports equipment, bicycles and family annual health checkup vouchers.
"We read a lot about diabetes and physical activity, but through The Blue Ring Challenge, we want to show the results practically," said Dr Zain Gulzar, Consultant Endocrinologist at Dubai RAK Diabetes Centre, "Visitors can get their blood sugar tested prior to a 20 minutes exercise regime – comprising cycling, brisk walking, swimming, skipping, jogging, zumba or any other cardiovascular exercise. 20 minutes later, they can get themselves retested to check how far the levels of blood sugar have reduced. On an average, diabetic patients will see their blood sugars drop by 20 percent after just 20 minutes of exercise, while the drop will vary in non-diabetics. This will drive home the importance of staying active in a far more effective manner."
"UAE residents can also register for the challenge online and get a diabetes health screening voucher worth AED 700 for just 1 dirham, which they can avail either at RAK Hospital or at the RAK Diabetes Center in Dubai. As a CSR activity, the Hospital and Center will also add 1 dirham for each registration – irrespective of whether people avail the screening or not -- and the entire amount will go towards creating programmes and awareness campaigns against diabetes", said Dr. Yasmin Shaikh, Group Marketing Head, Arabian Healthcare Group and RAK Hospital.
With just 20 to 30 minutes of active exercise five days a week, people with pre-diabetes can control and prevent their condition from turning worse, while the activity significantly brings down sugar levels in known diabetic patients. According to World Health Organisation, sedentary lifestyle is among the 10 leading causes of death since it gives birth to a number of chronic ailments, such as significantly increasing the risk of diabetes and pre-diabetes.
Dr Raza Siddiqui, CEO, Arabian Healthcare Group (RAK Diabetes Center is under the aegis of Arabian Healthcare Group): "This year, we want to encourage people to take stock of their health. This is why we have kept the Blue Ring Challenge open for diabetics and non-diabetics. We are also approaching corporate houses to perform the Blue Ring Challenge on their premises since corporates generally lead a very sedentary lifestyle. Let us promise this year to literally put our best foot forward and exercise to keep diabetes under control. We would like to request people to at least register for the challenge even if they are unable to be a part of the challenge physically, since it will help create awareness on diabetes".