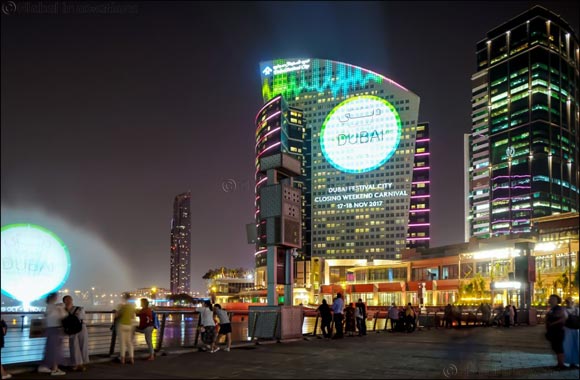 From Guinness World Record attempts and an appearance from Anthony Joshua, to dragon boat racing and fireworks – Dubai Festival City is the place to celebrate the Dubai Fitness Challenge finale
Dubai, United Arab Emirates 14 November 2017: Following the announcement that it will be hosting the first ever Dubai Fitness Challenge closing ceremony on November 17th and 18th, Dubai Festival City has revealed some of the event highlights set to take place during the weekend. Soon coming to an epic close, the Dubai Fitness Challenge, was especially designed to inspire Dubai's citizens, residents and visitors to boost their physical activity by committing to a minimum of 30 minutes of daily activity for 30 days
The two action packed days will see everything from dragon boat racing and ninja warriors to sunset yoga on the Festival Bay Helipad, spin classes and much more. Over the course of the weekend visitors will be treated to an appearance from a current world heavy weight boxing champion, Anthony Joshua, special edition IMAGINE shows throughout each evening, the Dubai Fitness Challenge awards ceremony and a Guinness World Record attempt for the most people simultaneously doing jump squats. The weekend of celebrations will culminate in a spectacular fireworks display across Festival Bay.
Expect everything from ballet dancers to football freestylers as well as competitions and mass participation exercise classes designed to get the fun started! Across Festival Bay there will be specific areas dedicated to sports as well as training and fitness, with plenty of chances to try out something new. A special children's fitness zone will give them the chance to enjoy climbing walls, trampolines and parkour, as well as Les Mills classes designed especially for ages two to 12 years old.
Tim Earnest, Group Director of Retail Malls, Leisure and Hospitality for Dubai Festival City, said, "Visitors to Dubai Festival City Mall are in for a real treat this weekend as we are pulling out all the stops to make this a Dubai Fitness Challenge Closing Ceremony to remember. We are expecting thousands of people to come down to Festival Bay and join in with all the activities and entertainment going on throughout the weekend, as there really is something for everyone."
Abdallah Hageali, Group Director for Al-Futtaim Group Real Estate mixed use developments adds, "Over the past few weeks, as a destination Dubai Festival City has come together to support this great initiative, with numerous activities for the community to get involved with. The Closing Ceremony is wonderful opportunity for us to mark 30 days of the Dubai Fitness Challenge coming to an end and recognise the achievements of many of those involved."
Launched by His Highness Sheikh Hamdan bin Mohammed bin Rashid Al Maktoum, Crown Prince of Dubai and Chairman of The Executive Council of Dubai Government and Dubai Sports Council, the Dubai Fitness Challenge grand finale will be held from 1pm-9pm on November 17 and from 1pm-7.30pm on November 18, so be sure to get there early so as not to miss out!