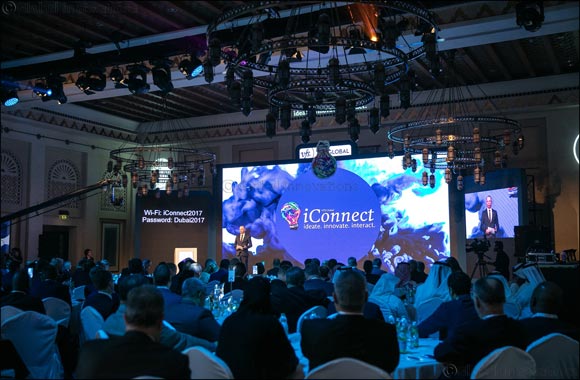 Representatives from 55 countries participate in the event, which focused on digital transformation and information security
Dubai, UAE (November 13, 2017): VFS Global, the world's largest outsourcing and technology services specialist for governments and diplomatic missions worldwide, conducted the 4th global edition of its annual innovation workshop "iConnect" for the outsourced government services industry in Dubai recently. The event brought together 129 delegates from 55 countries to interact and discuss the most significant technology trends and the cutting-edge solutions offered by VFS Global in visa, consular and citizen services. The delegates were predominantly senior officials from the central government ministries and from various embassies and consulates in the UAE.
At the workshop, governments and private stakeholders discussed the importance of cyber-security in a global environment in the context of the recent escalation in cyber-attacks worldwide. Guest speakers, domain experts and global leaders in cyber security, highlighted potential risks, and discussed measures to mitigate the risks. Sharing of information and collaboration between all stakeholders was seen as a critical element in risk mitigation.
With digital transformation becoming a key requirement for institutions to remain relevant to the modern consumer, who expects a natural digital experience, speakers at iConnect spoke about how customers today wanted easy access to information and convenient service fulfillment - whenever and wherever they wanted. The growing relevance of Artificial Intelligence (AI) to transform customer experience was also a topic of discussion, with the technology now maturing and making inroads into various sectors from assisting in travel across airlines to enhancing the customer experience through automated 'bots' to simplify the visa process.
Zubin Karkaria, CEO of VFS Global, said on the occasion: "VFS Global seeks to set iConnect apart as a truly unique event in the outsourced government services industry. Year after year, we strive to make the annual iConnect workshop as engaging, inspiring, interactive and productive as possible for the government representatives, and we are very pleased that with the very active participation of governments it has developed into such a vibrant and compelling event which plays a pivotal role in charting the way forward for government services in this domain. I firmly believe that the public-private partnership model can be developed and leveraged further to significantly enhance government services."
In a series of breakout sessions, VFS Global presented some of its most innovative solutions such as LIDPro (Location Independent Document Processing) and e-Visa solutions to the delegates.
Another solution showcased was the Finnish Residence Permit Application Centre pilot project rolled out in Ankara, Turkey. Management of migration services has become a key priority for several governments, and leveraging its vast experience in application processing, VFS Global now offers an integrated Migration Services solution. At the event, Lauri Aaltonen, Ambassador, Co-ordinator for development projects, Ministry for Foreign Affairs of Finland commented: "The Residence Permit Application Centre was rendered possible due to VFS Global's high professionalism in effectively managing the number of applications received. As the outsourcing partner for this important pilot project which MFA planned and executed in close collaboration with the Finnish Immigration Services, VFS Global has indeed helped us to deal with a very important task."
Meanwhile, Simon Peachey, Head of Visa Operations, UK Visas and Immigration said about the workshop, "We are delighted to be here at iConnect 2017. It is great that VFS Global has managed to bring together such an interesting range of government representatives and private sector companies from around the world so that we can not only discuss successful service and technologies but also potential future developments in this sector. The event is very valuable as a variety of people has come together and done some genuinely strategic systems thinking about the nature of visa, identity and consular services. It has been particularly exciting for me to consider the potential for digitalisation and the use of artificial intelligence to enhance the customer experience in this sector," Mr. Peachey added.