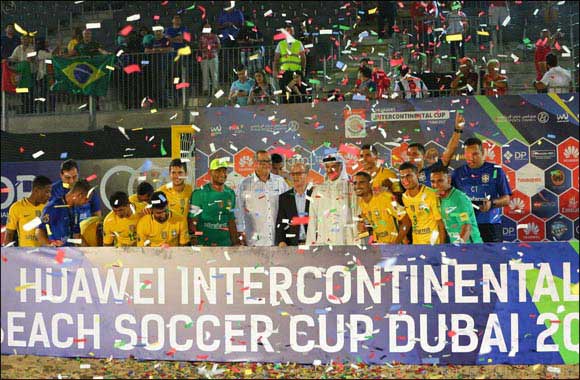 HUAWEI and Dubai Sports Council strengthen global reputation for world-class tournaments
Dubai, United Arab Emirates, November 11, 2017: Huawei Consumer Business Group, the title sponsor of the 2017 Beach Soccer Intercontinental Cup, enjoyed its integral role in the competition's spectacular display of sporting prowess and precision organisation as the tournament drew to a dramatic close last night (Saturday), with Brazil retaining their title with a 2-0 win over Portugal.
During the opening ceremony of the five-day tournament, Huawei unboxed its latest and most powerful intelligent smartphone – the Huawei Mate 10 Pro – reflecting the anticipation and excitement of both the event and the supporters. The launch was made in the presence of His Highness Saeed Hareb, Secretary General of Dubai Sports Council, which has extended its partnership with Beach Soccer Worldwide to keep the tournament in Dubai until 2020.
Mr. Gene Jiao, President of Huawei CBG, Middle East & Africa, described the event as a model alliance. "We're delighted with this edition of the Huawei Beach Soccer Intercontinental Cup and we have seen in the competitors the same speed, performance, elegance and constant desire for progress that makes Huawei an ideal sponsor. Partnering with Dubai Sports Council has strengthened our ongoing commitment to work with government entities on an increasing number of initiatives and reinforces our goals to initiate and innovate in line with the UAE's vision of a pioneering community."
Upon winning the Intercontinental Beach Soccer Cup 2017, the winning team were thrilled to be among the first to get their hands on the ultimate intelligent device, the Huawei Mate 10 having just launched recently in the region.
The Huawei Mate 10 is a path-breaking intelligent smartphone that meets the needs of the region's consumers, delivering intelligent speed, intelligent performance and intelligent camera features, powered by its AI chipset. The device celebrates the ultimate in speed and performance, echoing the qualities of the best in sports.
The new Huawei Mate 10 smartphone is now available in the UAE at the Huawei experience store in Dubai Mall and at leading retailers across the Emirates.