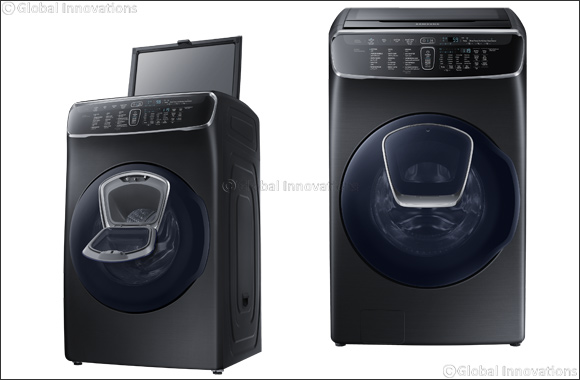 Say goodbye to washing day and hello to family time with Samsung's new FlexWash™ washing machine.
Dubai, UAE, November 8, 2017: If juggling family life, kids, pets and household chores sounds like a huge challenge to you, consider this: it is one that women across the region overcome every single day. Keeping up with your to-do list is an ongoing balancing act, and washing enough clothes for yourself and your family is the finale.
Ladies, do you find yourself staying at home every Saturday to wash all the family's clothes? Or are you constantly in and out of the laundry room throughout the week, loading and reloading your washing machine because not everything fits into one wash? When it comes to home care, who does the majority of the cleaning? Perhaps unsurprisingly, it's predominantly still women. According to a recent Nielson survey, 49% of respondents said that the female head of the household in the Middle East and Africa region does the majority of the cleaning. However, what if you could wash all of your clothes in one wash cycle and spend more time with your family?
Sounds like a dream! With the latest innovations in household appliances, this dream can become a reality. Thanks to improvements in the machines you use every day, things are shaking up in the laundry room — and now, you can wash more items and spend less time waiting for your load to finish. Samsung has made it possible for you to have it all when it comes to washing your clothes and still have the time to take the kids to the mall or the movies.
Changing the game for women everywhere, Samsung's new FlexWash™ washing machine allows you to wash up to four loads of laundry in one, as it is the world's first washer to feature two unique compartments, allowing you to customize your laundry and save time. What's more, you have the control to stop, start and pause each load remotely using Samsung's Smartphone app, as the washer is IoT enabled. Incorporating a range of core Samsung laundry technologies, the FlexWash™ provides the most advanced, flexible laundry solution to meet the needs of any busy family.
Everyone has different clothes and different ways of caring for them — especially in big families, where there are delicates, light colors, and dark clothing items that all require different washing temperatures. However, with the FlexWash™ washing machine, you can now have the freedom and the flexibility to adjust the laundry process to suit the way you live, not the other way around.
Designed especially with a convenient front-loader, the FlexWash™ is equipped with a 23kg capacity washer — the largest in its class — to handle normal or bulky loads. Meanwhile, the FlexWash™ has a brilliant 3.5kg top-loader which is built to wash smaller loads separately from the main load. To power through all your laundry in a fraction of the time, you can operate both washers at the same time with different settings. In addition, the ability to operate all four compartments separately and simultaneously means you can wash clothes faster while still keeping items separate.
What's more, the new FlexWash™ washer utilizes three core Samsung laundry technologies: SuperSpeedTM, PowerFoamTM, and Vibration Reduction Technology (VRT). With SuperSpeed™ it can shorten your wash cycles from the usual 60 minutes to as little as 30 minutes, while PowerFoam™ technology uses an innovative mixture of water, air and detergent to deep clean even your bulkiest items with the power of foam. Furthermore, VRT is engineered to minimize vibration and keep the noise level down in your wash room so that you can even leave a load on while you sleep.
If washing day at home is a regular routine for you, get ready to replace it with something you can actually enjoy. Spending more time with your family is possible with the latest home devices to assist you in your everyday routines; and today, the Samsung FlexWash™ empowers all its users with the option to adjust their laundry process so that it fits into their everyday schedule and eliminates (or at least simplifies) washing day for everyone.