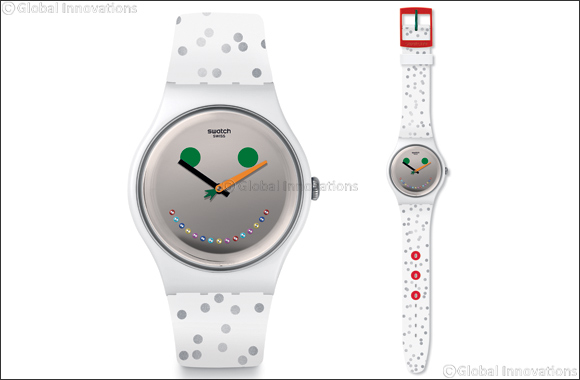 Dubai, UAE, November 8, 2017: Swatch is pleased to introduce ISIDOR, the snowman who can turn any setting into a winter wonderland.
ISIDOR keeps holiday styles looking cool – and when Frosty has melted, this snowman will still be ticking.
Giving new meaning to the watch face, the silver-colored dial has a shiny mirror-effect with two green eyes and a multi-colored smile. The face is complete with a carrot nose that doubles as an hour hand. A flurry of snowflakes decorates the watch strap, making the snowman feel right at home.
This watch comes in a limited and numbered edition of 8,888 pieces and is presented in special packaging that plays with a snowman's most distinguishing feature: his carrot nose.
Hinting at surrealist artist René Magritte's famous painting where "Ceci n'est pas une pipe" (French for "This is not a pipe") is written under an image of a pipe, the text below the carrot on this packaging reads, "Ceci n'est pas une carotte." Which, of course, is true – this carrot should not be served with dinner.
The collection is priced at AED 360.
The collection is available across Swatch stores in UAE.