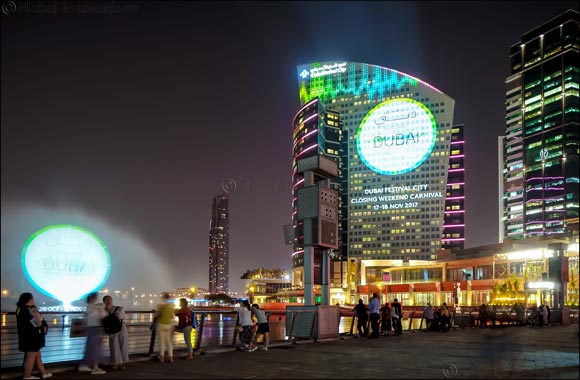 The closing ceremony for the 30-day Challenge is set to be hosted at Dubai Festival City Mall
Dubai, United Arab Emirates, 7 November 2017: As thousands take part in the Dubai Fitness Challenge this month, Dubai Festival City, one of emirate's largest mixed-use developments, is gearing up to host the grand closing ceremony on November 17th and 18th.
From surprise celebrity appearances and fitness demonstrations from Dubai's top trainers to dragon boat racing and sunset yoga on the Festival Bay Helipad, Dubai Festival City has revealed some of the activities that visitors should expect in what is set to be a historical event. There will also be the chance to take part in Dubai's latest Guinness World Record attempt – with more details set to be announced in the coming weeks.
Visitors to Festival Bay are being urged to get down early from 1pm so as not to miss out on all the surprises.
Tim Earnest, Group Director of Retail Malls, Leisure and Hospitality for Dubai Festival City, said, "This is the first ever Dubai Fitness Challenge Closing Ceremony and we are planning a spectacle to ensure this month ends in style. Dubai Festival City is a true lifestyle destination and we always look forward to hosting events such as these that promote a healthy, active and happy community. We cannot wait to reveal who will be joining us and the rest of the activities we have in store. Needless to say, this will be one to remember."
Working closely with DTCM, Dubai Festival City is bringing together all its components including – hotels, mall, residences, commercial entities and its community to mark the epic closing ceremony which is sure to get everyone's heart racing. As part of the build-up to the final weekend, fitness fanatics and amateurs alike, are invited to take part in a jam-packed schedule of indoor and outdoor events organised throughout Dubai Festival City.
Abdallah Hageali, Group Director for Al-Futtaim Group Real Estate mixed use developments adds, "As a destination, we wanted to bring all the elements of Dubai Festival City together to support this great initiative and demonstrate not only the breadth of offerings we have here, but how we can come together as a destination to deliver a great programme of events and entertainment for Dubai.
"Whilst the Closing Ceremony will be the highlight of the month, we were also keen to ensure in the run-up to the final weekend, that there are activities to involve the community within Dubai Festival City enabling them to participate in the Dubai Fitness Challenge."
Dubai Fitness Challenge participants can take part in, Zumba classes at the Al Areesh Club, as well as Sunset Yoga and Boot Camps at the Marsa Plaza Promenade. Children and teachers from the on-site schools – Universal American School and Deira International School, are also getting involved.
Launched by His Highness Sheikh Hamdan bin Mohammed bin Rashid Al Maktoum, Crown Prince of Dubai and Chairman of The Executive Council of Dubai Government, The Dubai Fitness Challenge grand finale will be held from 1pm-9pm on November 17 and from 1pm-7pm on November 18, so be sure to get there early to reserve a spot!
Dubai Fitness Challenge – Schedule of activity at Dubai Festival City
DATE
TIME
EVENT
LOCATION
Friday 10 November
17:00-17:45
Sunset Yoga
Marsa Plaza Promenade
Friday 17 November
13:00-21:00
Closing Ceremony
Dubai Festival City Mall
Saturday 18 November
13:00-19:00
Closing Ceremony
Dubai Festival City Mall
The full schedule of activities at Dubai Festival City is listed below.