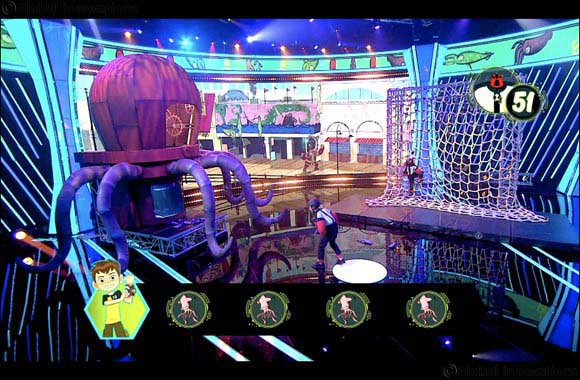 All-new live-action gameshow hosted by Ahmed Khamis, airs on Tuesday at 17:40 (KSA time)
Dubai, UAE, November 6, 2017: It's officially "Hero Time" as Cartoon Network brings to you Ben 10 Challenge – a brand-new and exhilarating live-action game show giving children from across the Middle East a once-in-a-lifetime opportunity to become their favourite boy hero, Ben 10! Ben 10 Challenge airs every Tuesday over a ten week period on Cartoon Network Arabic at 17:40 (KSA). The show was launched to celebrate the 7th anniversary of the channel.
Hosted by the Emirati presenter Ahmed Khamis, the live-action game show features a range of physical and mental challenges – testing participants' speed, strength and other Ben 10 villain-conquering skills. From collecting aliens and testing knowledge of the series, to transforming into XLR8 and racing across hot lava, this show is filled with fast-paced action and excitement from start to finish.
The Ben 10 Challenge follows teams of two child fans and one adult as they complete three action-packed contests. In the final round, the team with the highest score goes into a high-octane challenge against the clock. Utilising modern technologies like augmented reality, tons of thrilling special effects and of course the iconic Ben 10 aliens and villains, Ben 10 Challenge is the ultimate live-action Ben 10 adventure for fans of Cartoon Network's popular series.
Filmed in August in the Spanish capital, Madrid, eight versions of the show were produced, to create content tailored exclusively for children in several key markets including the UK, France, Germany, Italy, Spain, Turkey as well as the Middle East.
Speaking about the airing, Darine El Khatib, Senior Director of Creative Strategy and Brand Development for Turner Middle East, North Africa and Turkey said: "We are extremely excited to launch the Ben 10 Challenge which epitomizes our ongoing strategy to engage our young viewers in the region through world-class content that, most importantly, is locally relevant.
"We were delighted to be able to give a number of children from across the Middle East the opportunity to take part in this exciting global venture, which truly complements our wider Ben 10 content offering across the linear channel, websites, apps and games. The live action show demonstrates our commitment to continuing to innovate with original content based on our best loved characters."
Cartoon Network Arabic was launched on October 10th in 2010 with a view to provide the region's children with some of the channel's most popular programs in the Arabic language. In addition to Ben 10, the channel broadcasts a several top children's shows including Adventure Time, The Amazing World of Gumball, The Powerpuff Girls, We Bare Bears and locally-produced show Mansour, among others.
Tarek Mounir, Vice President and General Manager of Turner for Turkey, Middle East, North Africa, Greece & Cyprus said: "The Ben 10 Challenge perfectly demonstrates Turner's commitment to creating and producing highly interactive content to provide children with a truly immersive experience that specifically caters to the local audiences. Turner is heavily investing in the region and is dedicated to continuing to advance the children's entertainment sector across the Middle East through localized and diverse content that entertains and engages.
"The Ben 10 Challenge represents the first of a number of planned activities which aim to elevate children's programming to another level and we look forward to working with teams across our global network to bring the very best in children's entertainment to youngsters across the region."