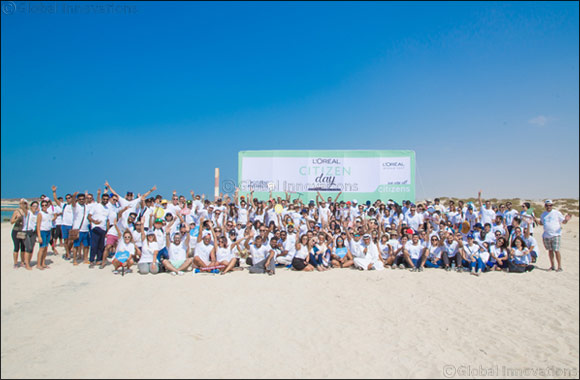 Service to the community and protection of the environment key priorities for Citizen Day activities
United Arab Emirates, November 5th, 2017: L'Oréal Middle East has continued its tradition of Citizen Day – where employees and senior management participate in good causes and give back to the community – by leading a beach cleanup on the fifth edition of the celebration.
On November 2nd, 2017, over 350 L'Oréal employees from the UAE accompanied the group's senior management to the Jebel Ali Marine sanctuary in cooperation with the Emirates Marine Environmental Group, where they spent the day combing the beaches and untangling mangroves.
Citizen Day has become a global commitment for L'Oréal, where the group's employees from across the world engage in social outreach activities Such as running well-being workshops for people in vulnerable situations, repainting centres that welcome elderly or disadvantaged people, or helping job seekers draft a resume. The aim is to inspire, engage and motivate everyone at L'Oréal to empathize with those in need, and to identify with the group's commitment to its communities and the environment.
"We are very pleased to see the enthusiasm that our fifth Citizen Day celebrations in the Middle East have garnered, and I want to thank every member of the team who participated in giving back to the community. Our Citizen Day efforts are just a small part of L'Oréal Middle East's overall commitment to local communities and the environment – which we have codified under our "Sharing Beauty With All" framework," said Theirry Houssin, Managing Director of L'Oréal Middle East.
L'Oréal Middle East's "Sharing Beauty With All" (SBWA) program is a holistic sustainability roadmap that combines the group's commitments to Innovating Sustainably, Producing Sustainably, Living Sustainably and Developing Sustainably. It calls on L'Oreal to innovate and produce sustainability to reduce its environmental footprint across its entire value chain.
Citizen Day is a global tradition first established in 2010. Every year since, L'Oréal employees have devoted an entire working day to offering their skills and energy to social and environmental causes. In 2016, L'Oréal Citizen Day supported 515 non-profits in 70 countries, with some 28,000 participants volunteering.