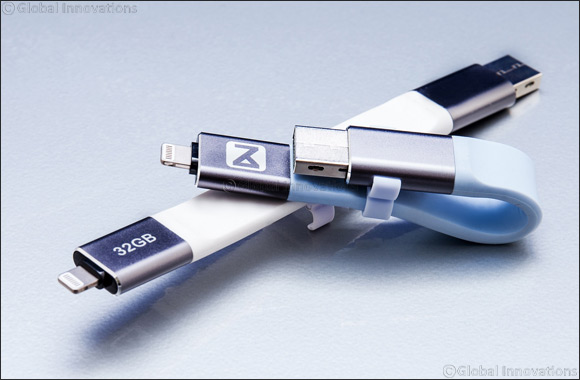 Zakk iDisk is a storage device bundled with lightning and charging cable for iPhones and iPad devices with a storage capacity ranging from 32 to 64 GB.
DUBAI – November 05, 2017: ZAKK, a global lifestyle brand under Kamon International, has announced the launch of Zakk iDisk, an innovative product specifically designed to work as both a charging cable and USB storage device for both personal computers and iPhone or iPad files.
The next-generation flash storage solution, with a storage capacity ranging from 32 to 64 GB, is designed to help users to charge their iPhone or iPad, while quickly and easily freeing up space on their Apple devices by transferring files, photos, videos and documents to the iDisk device.
ZAKK is a global lifestyle brand aimed to enhance the experiences and lives of people from multi-cultural backgrounds.
Commenting on the launch of iDisk, Mr. Karan Saini, Head of Marketing at ZAKK, said "With the launch of ZAKK iDisk we are thrilled to bring a perfect storage companion for the tech-savvy consumers in the UAE. We offer a smart solution to address the challenge of the modern-day customers who get frustrated when seeing 'storage full' notifications on their smart phones with no memory left for photos or videos, new apps, or data for existing apps, when they are in the middle of working with it.
"Photos and videos can take up a huge chunk of the space on Apple devices, so the iDisk offers an efficient way to transfer these files at the earliest opportunity. This mobile storage solution will be an immediate support for users to free up memory by easily transferring files to the iDisk and to their computer and vice versa, allowing them to continue their work," he added.
The ZAKK iDisk is compatible with both Mac and Windows Operating Systems, and supports popular video formats including .WMV, .AVI, .MKV, .MP4, and .MOV. This will help users to store and watch videos straight from the drive, making it the perfect travel accessory. The iDisk comes in an aesthetic and contemporary design that fits with all iPhone and iPad cases and is available in blue and white colors. It also has a USB 3.0 connector for faster transfer speeds to Mac or PCs.
"Our vision is to make technology readily and easily accessible to everyone. We also believe that enjoying technology should not be too expensive and complicated," Mr. Saini said.
The ZAKK iDisk is attractively priced at AED 229 for the white colour 32 GB OTG Drive and AED 299 for the blue colour 64 GB OTG Drive.
The ZAKK brand has more than 100 products - ranging from wearable devices such as smart watches, health bands and bluetooth devices to headphones, earphones, speakers, projectors, virtual reality headsets, power banks and storage devices.
All ZAKK products start their life cycle in Dubai. It is during this process that ZAKK products are rigorously tested before being passed on to its manufacturing units in China, India, South Korea and Taiwan.