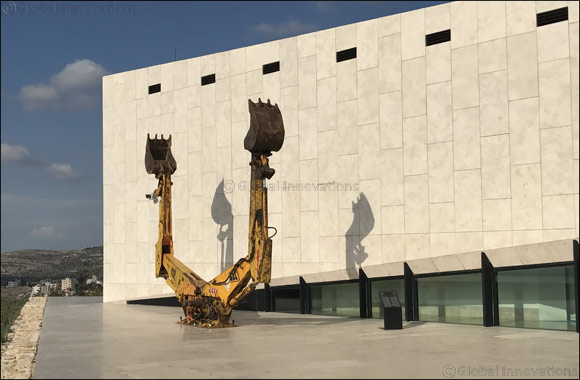 Palestinian Museum supports young artists develop their own art and help redefine the cultural landscape
On this month's edition of 'Inside the Middle East', CNN explores the Palestinian Museum and discovers how it is redefining a cultural landscape.
Mahmoud Hawari, Director, The Palestinian Museum discusses how the museum is much more than just a building and explains to CNN how it will encourage and inspire people both locally and internationally: "It's not just a museum, it is a place where we want to really express our own culture, our own heritage and history… It is a cultural centre that we want to show first of all to our own young generations, but also to the rest of the world that we have a vibrant culture… that is worthy to preserve, to take forward to the next generations. "
Hawari explains how he sees the museum as a gateway for emerging artists: "The Palestinian Museum will be, in fact, supporting young artists whether they are doing, you know, art or photography in order to develop their own art, and really encourage them…."
The museum's first exhibition titled 'Jerusalem Lives' features a mixture of contemporary multimedia and sculptural works by Palestinian and international artists. CNN meets Ahed Izhiman, an up and coming photographer whose work features in the exhibit. Izhiman tells the programme about the importance of the museum to artists and visitors: "It's the place where you can make your own research. When you're being involved in such an important event, and you will be delivering your personal and your community messages through a few different mediums and through different visual material, you will start to feel that you are an ambassador to your work and to your feelings and to your community. It's a huge responsibility…We should be brave enough to have this responsibility and to deliver it in the right way.
The programme hears from Hawari about how everyday life provides inspiration for Palestinian artists, and how their work can be considered political: "Any art, which is born out of struggle, I think it is very meaningful… many people would say this is political art, but I think we are living in a political reality, and any production of art under these circumstances will be political."
Hawari divulges details about an upcoming exhibit which will highlight Palestinian history and its place in the world: "The other exhibition that we're working on [features] the works of international artists; how they, in fact, express solidarity with Palestine." He also reveals plans for future exhibitions: "We are even thinking about an archeological exhibition on Gaza, how Gaza was the gateway to Palestine. And through Gaza, we'll look at the history, the archaeology of Palestine."
Forthcoming showcases include Palestinian embroidery and 'Intimate Topography' and Hawari clarifies that not all the exhibits at the museum will be politically focused: "I don't think the content of our exhibitions or programs is going to be highly politically charged. We will of course explore other issues, other subjects that we will deal with that emanate from our own history, and heritage, and culture."
The importance of art and culture is explained by Reem Fadda, Curator, The Palestinian Museum: "Historically speaking, art has had a very major role in the shaping of the Palestinian mind. I think that's why there continues to be a relationship and an expectation from the society to what art can offer people and I think that is something that is very important."
The significance of the museum is also articulated by Hawari: "This museum is for the Palestinians. It is a place that we want Palestinians to feel it is their own museum. It's for young Palestinian artists, historians, scholars to come and really express themselves. I think the museum symbolizes hope for us Palestinians, that we are here, we have been here, we are here and we still stay here."
'Inside the Middle East' airs at the following times on CNN International:
Saturday 4th November at 15.30 GST
Sunday 5th November at 09.30 and 21.30 GST
Wednesday 8th November at 14.30 and 21.30 GST
Saturday 11th November at 10.30 and 23.30 GST
Sunday 12th November at 16.30 GST