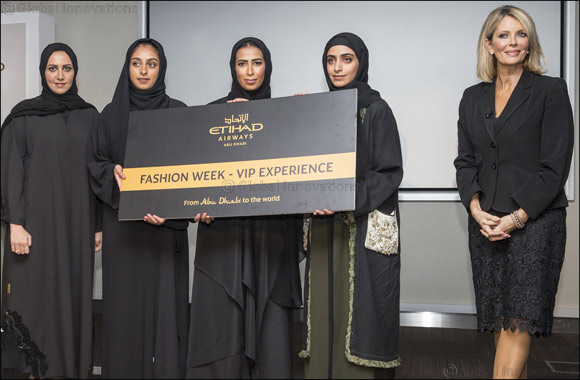 Abu Dhabi, United Arab Emirates, November 2, 2017: Last month, Etihad Airways launched a competition to engage four young Emirati fashion designers to create new onboard loungewear.
The competition drew almost 71,000 votes via highly regarded UAE fashion publication Zahrat Al Khaleej's social media channels.
Four UAE based designers kicked-off the competition through a challenging set of criteria: the design themes had to involve strong Emirati and UAE influences, working with traditional patterns, accents and must be contemporary and trendy.
Rawdha Al Shafar (A Friend of Mine by Xpoze), Manaal Al Hammadi (Manaal Al Hammadi), Asma Al Matrooshi (Epiphany) and Aisha Al Marri (1981 Boutique) developed designs over a one week period for a chance to win the grand prize of having their design offered in Etihad Airways' First Class cabins and in The Residence on board the Airbus A380.
Over the three day voting period, nearly 71,000 votes were submitted over Zahrat Al Khaleej's Snapchat channel and website. The two finalists, Rawdha Al Shafar (A Friend of Mine) and Aisha Al Marri (1981 Boutique) were chosen to develop a prototype design within a week for the final judging round, with Rawdha Al Shafar from A Friend of Mine by Xpose winning the final design.
Rawdha Al Shafar said of the competition: "I am so honoured to have won this prestigious competition. The team at Zahrat Al Khaleej and Etihad Airways have been incredibly supportive. The other designers have certainly been tough opponents as they all showed much skill and talent.
"This was an extremely challenging competition – to turn around a design and a prototype in just a couple of weeks was testing but certainly rewarding. I can't wait to see my design onboard next year!"
The team from A Friend of Mine by Xpose will work closely with Etihad Airways' Guest Experience & Delivery and Product & Brand teams to monitor the production of the loungewear over the next few months before being introduced onboard by quarter one next year.
Linda Celestino, Etihad Airways Vice President Guest Experience and Delivery, said: "This is the first time an airline has done something such as this. I absolutely loved working with these incredibly talented young Emirati women, who showed such passion and determination. This gives Etihad Airways an opportunity to showcase the talent that exists in the region. It was certainly a tough choice but A Friend of Mine deserves the win."