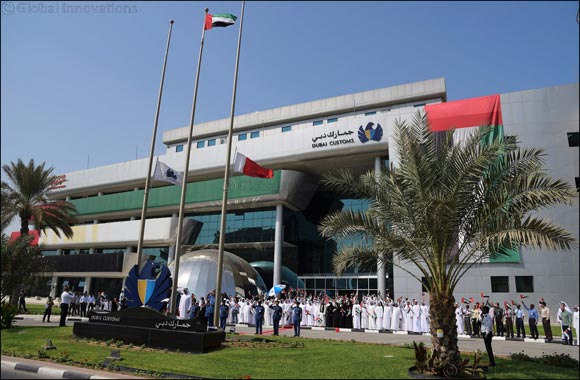 Dubai - 2 November 2017: Dubai Customs celebrated UAE Flag Day on Thursday 2nd November 2017 which falls on 3rd November every year.
Flag Day is a national campaign, which was launched by His Highness Shaikh Mohammad Bin Rashid Al Maktoum, Vice-President and Prime Minister of the UAE and Ruler of Dubai, in November 2013 to commemorate the accession of His Highness Shaikh Khalifa Bin Zayed Al Nahyan as President of the nation.
Children of DC Childcare Center took part in the Flag Day ceremony, where they presented a memorial gift to Dubai Customs' director.
A flag-raising ceremony was held at Dubai Customs headquarters in the presence of Ahmed Mahboob Musabih, Director of Dubai Customs. The ceremony started with raising the UAE Flag, singing the National anthem, and declaring the flag oath. The flag was hoisted also at different customs centers and buildings in Dubai.
Musabih commented:" This is a historic day. Our hearts and souls become one under one glorious flag which symbolizes our unity, progress and prosperity. Together, we mark the UAE Flag Day, which also coincides with the accession of President His Highness Shaikh Khalifa Bin Zayed Al Nahyan".
He added: "It's an occasion in which we recall all the bright stages in the development process as well as the country's renaissance to accomplish prosperity and progress for its people in various areas in order to keep the homeland a hub of security and stability".
Flag Day is a day of celebration, reflecting a symbol of unity, patriotism and loyalty to the UAE and its wise leadership, and adherence to the values of the union established by the UAE's Founding Fathers.