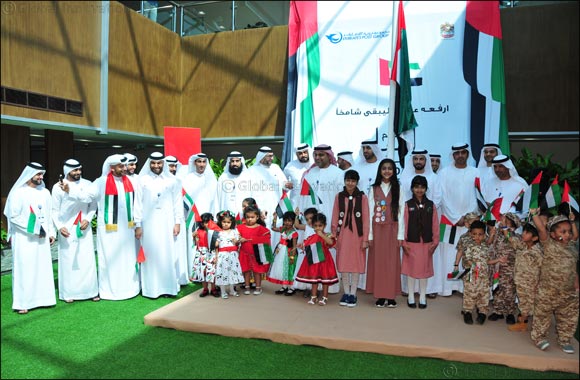 Dubai, November 2, 2017: Emirates Post Group joined the national Flag Day activities by hoisting the national flag at its head office in Ramool and in all post offices and subsidiaries, as part of nation-wide celebrations.
The celebrations were in response to the call given by His Highness Sheikh Mohammed bin Rashid Al Maktoum, UAE Vice President and Prime Minister and Ruler of Dubai, to honour the national flag on the occasion of the anniversary of the accession of His Highness Sheikh Khalifa bin Zayed Al Nahyan, as President of the UAE.
"As a federal organization, Emirates Post Group takes great pride in honouring the UAE Flag which symbolizes the nation's values of peace, progress and harmony," said EPG Acting CEO Mr. Abdullah Al Ashram. "The Flag Day is a great occasion to recognize the importance of the national flag as the UAE continues its march towards progress and higher ranking among the countries of the world."
"We are pleased that all our post offices and subsidiaries enthusiastically joined the Flag Day activities and saluted the flag at 11 morning sharp, in response to the call by His Highness Sheikh Mohammed bin Rashid Al Maktoum. The event truly evoked feelings of patriotism and loyalty among UAE nationals as well as people of other nationalities," Mr. Al Ashram added.
Mr. Al Ashram hoisted the national flag at the main function held at the Group's head office in Dubai, at 11 morning. Holding small flags, the employees and schoolchildren participated in the celebrations, as the flag was hoisted ceremonially to express love for the nation.