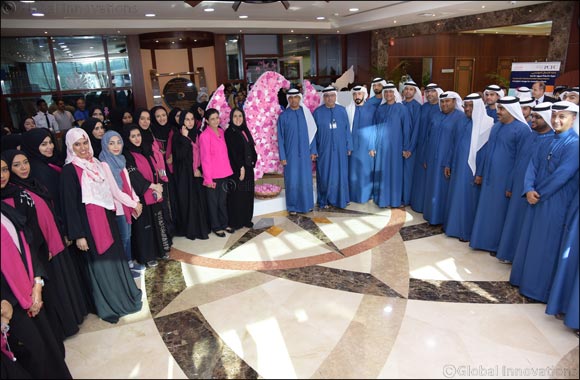 Dubai – 01 November 2017: Women's Committee of Dubai Customs organized an assembly in front of its main headquarters for all its employees to raise awareness about Breast Cancer Awareness Month.
The function saw the presence of Ahmed Mahboob Musabih, Director of Dubai Customs and a number of executive directors, heads of departments, employees and clients.
Musabih pointed out that the awareness activities carried out by Dubai Customs during the month of October in support of breast cancer campaign are part of its commitment towards its social responsibilities and its inherent values in fulfilment of the national agenda of UAE Vision 2021.
"Health awareness initiatives are part of our strategic plans at Dubai Customs. They encourage employees to follow a healthier life style and seek prevention from different types of cancer" he added.
On her part, Mariam Khalifa Al-Shamsi, Head of Women's Committee at Dubai Customs said: "Awareness initiatives started in the second week of October for 3 weeks. They covered a wide array of activities to encourage employees to early detect cancer as we all know early detection of cancer greatly increases the chances for successful treatment".
Female employees were given vouchers for free medical scanning, and laborers wore pink shirts branded with a breast cancer logo.
Breast Cancer Awareness Month (BCAM) is an annual international health campaign organized by major breast cancer charities every October to increase awareness of the disease and to raise funds for research into its cause, prevention, diagnosis, treatment and cure. The campaign also offers information and support to those affected by breast cancer.