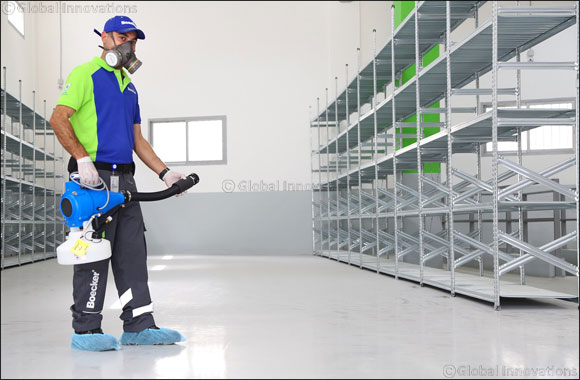 Find Boecker® at Gulfood Manufacturing at stand Z6-A29, in Dubai World Trade Centre from 31 October to 2 November, 2017
Boecker® will showcase two decades of expertise in pest management, food safety and biosecurity at the three-day event.
Gulfood Manufacturing is the region's biggest food and beverage processing industry event
Dubai, United Arab Emirates, November 1, 2017: Boecker®, the Middle East's largest public health company, brings over two decades of experience in pest management, food safety and biosecurity solutions to the annual Gulfood Manufacturing Exhibition. The three-day event will run at Dubai World Trade Centre from 31st October to 2nd November. Boecker® products and services for the F&B industry will be on display at stand, Z6-A29.
The company is set to introduce its newly designed certification programme named OHS LiteTM. The programme was tailor-made to service the F&B industry and address occupational health and safety concerns in the workplace. The Certification is assured by the Chartered Institute of Environmental Health (CIEH) in the UK and approved by the Knowledge and Human Development Authority (KHDA).
Commenting on OHS Lite™, Boecker® UAE Country Manager Mr. AbdulHadi Chalak said, "According to reports from the UAE Ministry of Health and Prevention, nearly 55 percent of the federal government's expenditure on treatment of non-communicable diseases is spent on employee-related illnesses and diseases. This results in an annual 44 percent productivity loss. Boecker® designed its OHS LiteTM certification programme to audit and train employees on the basis of occupational health and safety. This will enhance their working conditions and improve their level of compliance with international standards."
Boecker® will also highlight its comprehensive Pest Management services for business and industrial premises, in addition to its Infection Control PlanTM (ICPTM), an on-site professional disinfecting service that safely and effectively eliminates microorganisms and provides a long-term sanitized environment.
Moreover, the company will present its portfolio of food safety training and consultancy services for quality management systems implementation such as HACCP and ISO 22000, and feature its wide range of top-of-the-line tools.
"As the Food and Beverage industry is growing year after year in the region, hygiene and safety regulations related to the manufacturing, packaging, preparation and logistics are continually evolving. Boecker® supports the industry to comply with these regulations and safeguard public health." Mr. Chalak added.
Gulfood Manufacturing is the region's biggest food and beverage processing industry event which connects suppliers from 60 countries showcasing the latest F&B manufacturing business improvement tools. It will feature ingredients, processing, packaging and food logistics providers from the food and beverage production industries across the Middle East, Africa, Far East and Sub-Continent.