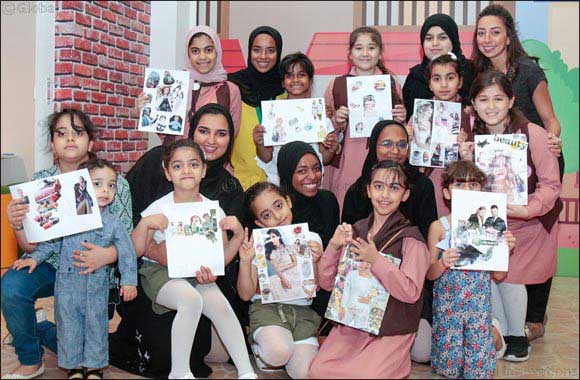 Artistic training sessions inspire girls' imaginations
Sharjah, 1 November, 2017: The Sajaya Young Ladies of Sharjah (Sajaya), a subsidiary of the Rubu' Qarn (Quarter of a Century) Foundation for Creating Future Leaders and Innovators, held an array of training workshops on the sidelines of Sharjah International Children's Film Festival (SICCF) in October, aimed at nurturing the talents and creative skills of the girls at the event.
The three workshops, which marked the fifth edition of the festival, were tailor-made for girls in the SICFF audiences in general and Sajaya members in particular, and were held at the Jawaher Reception and Convention Centre (JRCC), and the Cultural Centres of Kalba and Khorfakkan.
The first workshop, 'Be Famous', helped the girls to explore the basics of collage art, using magazine and newspaper clippings in order to create their own artwork which reflected their artistic ambitions and passion for fame. The girls cut out characters and glued them to coloured paper to illustrate their flair for making the most artistic use of space.
Themed '3D Glasses', the second workshop showed the girls how to make innovative 3D glasses using just cartons and plastic. As well as the creative aspects, the session aimed to raise awareness about the importance of being environmentally friendly through using recyclable materials.
Entitled 'The Art of Cinematic Découpage', the third workshop showcased a collection of découpage artwork of Arab and international artists who have played a pivotal role in developing and enriching the film industry through the ages. Aimed at nurturing the girls' visual communication skills, the workshop helped them to use simple pictures and clippings to create intricate artworks.
Sajaya Young Ladies of Sharjah is a leading organisation dedicated to developing the talents of young girls in the age group of 13-18 years in all creative spheres. It was established in 2004 under the umbrella of Sharjah Children's Centres before becoming an independent entity in 2012 following an administrative decree from Her Highness Sheikha Jawaher bint Mohammed Al Qasimi, wife of His Highness the Ruler of Sharjah and Chairperson of the Rubu' Qarn Foundation.