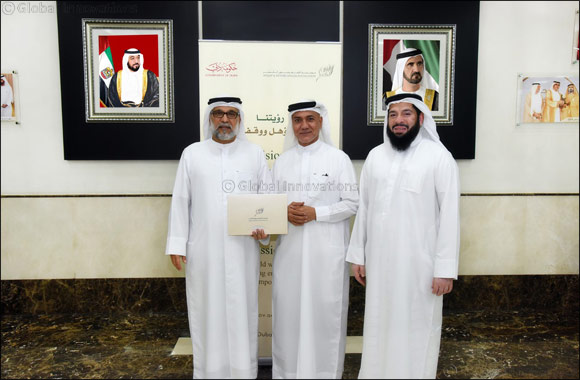 Dubai-UAE: 31 October, 2017: Awqaf and Minors Affairs Foundation (AMAF) donated AED1.2 million to Tarahum Charity Foundation, an organization that assists socially disadvantaged individuals in meeting their financial needs. The donation falls under the remit of a memorandum of understanding signed between the two entities in 2016 to initiate cooperation to support those in need.
The Charity Work Committee that oversees AMAF's annual charity budget disbursed the funds from Zakat and endowments under the Foundation's management. In accordance with donor conditions, the amount will contribute to the settlement of debts related to humanitarian cases registered with the Tarahum Charity Foundation.
His Excellency Tayeb Al-Rais, Secretary General of AMAF, presented the cheque to His Excellency Amin Yousef Al Khaja, General Manager and Board Member of Tarahum Charity Foundation, at AMAF's headquarters in Dubai.
Speaking on the contribution, His Excellency Tayeb Al-Rais said: 'Charity is the most important attribute of advanced societies and a significant contributor to sustainable development. In line with our ongoing efforts to support the humanitarian goals of the UAE and meet the strategic objectives of the UAE Vision 2021, AMAF is committed to promoting charitable activities that instill a spirit of solidarity in the community. we are also stepping up our drive to help achieve social security and happiness across all segments of society. '