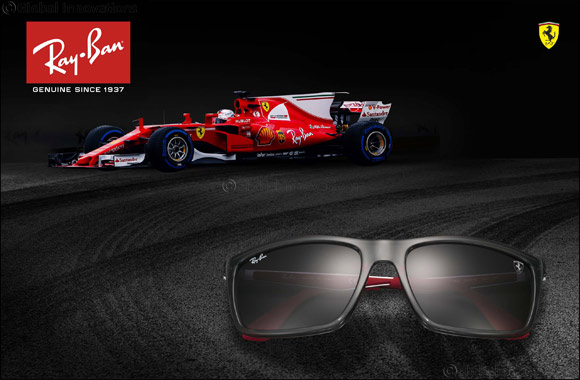 Dubai, UAE, October 31, 2017: In the 2017 season Ray-Ban joins forces with Scuderia Ferrari both on and off the track. As the world's most popular eyewear brand, Ray-Ban recently signed a high-profile sponsorship agreement with Scuderia Ferrari, and the Ray-Ban logo now appears on the SF70H Ferrari's Formula One livery.
Throughout eight decades, Ray-Ban has pushed the limits as an internationally recognized symbol of stardom and identifying look for cultural icons around the globe. With this sponsorship deal, Ray-Ban's own red merge with the Scuderia Ferrari racing red extending the reach of the champion of eyewear in the exciting world of Formula One. Always leading the pack, Ray-Ban draws on the absolute synergy with Scuderia Ferrari to frame a shared vision: passion and excellence, tradition and innovation come to life with the competitive edge and unique personality of real world leaders.
Matching the audacity, ambition and adrenalin of the racetrack, Ray-Ban takes it up a notch with state-of-the-art design and technology, pushing the limits to meet new challenges with high performance style – introducing the exclusive Ray-Ban for Scuderia Ferrari Collection.
Tackling the curves from the inside, this unique collection echoes the aerodynamic design, materials and the colors of the Scuderia Ferrari, transforming the blazing Ferrari red and Modena yellow, gleaming metal and black rubber of the racing legend's cars into a signature eyewear range. From the world's most advanced lenses to ultra-light carbon fiber, super strong steel and impact absorbing rubber, these frames have everything it takes to reach the top performance.
Live the passion and power of Formula One with the legendary Prancing Horse: the Ray-Ban for Scuderia Ferrari Collection – made to be successful, in style. The collection will be available online on Ray-Ban.com, Ferrari.com as well as the Luxottica & Ferrari retail stores.
RB2447NM
Racy stitched red leather temple tips and trendsetting flat crystal lenses with the Scuderia Ferrari Shield engraved on the left lens qualify this Ray-Ban top performer for pole position in the Ray-Ban for Scuderia Ferrari Collection. Available in classic black, havana and blue, with a fine metal bridge and tubular temples, modern matt finishes and ultra-cool flat lenses in gradient, mirror and classic G-15 shades, define this lightweight plastic phantos shape – for individuals who love to push the limits without compromising on comfort and style.
RB2448NM
Designed to perform, in exclusive style. Reworking the iconic shape of the original Ray-Ban Wayfarer, this new square shape offers DNA Ray-Ban design with a racy twist. Classic black, havana, blue and on-trend matt black rims feature tubular temples in matt or shiny metal tones with exclusive stitched red leather temple tips and the Scuderia Ferrari Racing Shield engraved into the left lens for signature styling. A selection of premium quality flat crystal lenses in shades of light green mirror silver, classic G-15 and blue or brown gradient, complete the look with the essence of Ray-Ban: 100% vision comfort with absolute style.
RB3548NM
New angles and signature color accents take a retro classic to the top of the podium with inimitable style! Available in versatile metal tones and high definition all black, this unique hexagonal shape reinvents the unmistakable look of Ray-Ban icons with distinctive stitched leather temple tips in racing red and premium quality, flat crystal sun lenses to reflect the innovative spirit of the exclusive collection. Choose from G-15, blue gradient and light green mirror silver shades, with the engraved Scuderia Ferrari Racing Shield on the left lens for 100% protection from harmful UV rays and cult style.
RB4195M
A perfect union: racing colors, hidden technology and world-class lenses redefine the Original Ray-Ban Wayfarer in exclusive Scuderia Ferrari style. Lighter and stronger than ever, this Liteforce frame features the Ferrari Racing Shield on both the left lens and one temple (and the Ray-Ban logo on the other), with red or yellow rubber temple grips and nose pads, and red or yellow metal rivets on selected models, for an ultra-comfortable, unmistakable look. Choose from matt grey, blue or black with classic green or cool grey mirror silver sun lenses, or gold, silver or blue Chromance mirror shades – featuring the world's most advanced polar filters, color pigments and coatings – for a one-of-a-kind full color experience that is made to match the pace.
RB4228M
Heroes of high performance design push the limits: steel and rubber defines the powerful personality. Designed for the dynamic pace of speed-driven lifestyles, this lightweight nylon fiber shape features steel temples with bright rubber inserts, nosepads and temple grips in Ferrari red or Modena yellow, to guarantee ultra-resilient, impact-absorbing comfort with racing style. Available in black, blue, havana and transparent grey, with either classic gradient sun lenses or polarized Chromance mirror shades, this look is all about the flawless functionality and powerful personality of leaders.
RB8305M
Ultra-light, impact absorbing design and cutting-edge technology push the limits with this exclusive Ray-Ban for Scuderia Ferrari style: carbon fiber and Chromance redefine the meaning of competitive full color vision with a racy edge. The strong, yet flexible top-bar and wrapped design of this rimless carbon fiber frame features integrated micro-fusion hinges in fine brushed metal, impact-absorbing rubber nose pads and temple grips in Ferrari red or Modena yellow and polarized Chromance mirror lenses for exceptional comfort and glare-free full color vision at any speed, in any conditions. Branded with the Scuderia Ferrari Racing Shield on one temple and the Ray-Ban metal letter logo on the other, this exclusive look is dedicated to those who are always first off the mark.
RB8313M
Modelled on the high-speed lifestyle of racing legends, hard-core steel, revolutionary lens technology and light, flexible support profile the high performance spirit of Ray-Ban for Scuderia Ferrari Collection. Available in classic metal tones, as well as matt black and gunmetal, this steel Aviator shape flaunts carbon fiber temples with bounce back rubber grips and nosepads in Ferrari racing red or Modena yellow. Featuring two Chromance mirror lenses with advanced anti-reflective and hydrophobic coatings and superior polar filters, this large caliber sporting style guarantees an exceptional fit and the ultimate in glare-free, full color vision, at any speed.
RB8351M
Streamlined design, advanced lens technology characterize the adrenalin-fuelled spirit of this Ray-Ban design. Iconic color accents and state-of-the-art Chromance shades make sure they look and feel as good as you see. Styled in lightweight nylon fiber, this sporty shape comes in shiny or matt black, classic havana and transparent grey, with a selection of gradient, mirror and polarized Chromance lenses for both toned-down style or more modern looks that offer incredible full color vision. With impact-absorbing rubber grips and nosepads in Ferrari racing red or Modena yellow and the Ferrari Racing Shield on one
temple (and the Ray-Ban metal letter logo on the other), this race-driven style is made to beat the limits, on every lap.