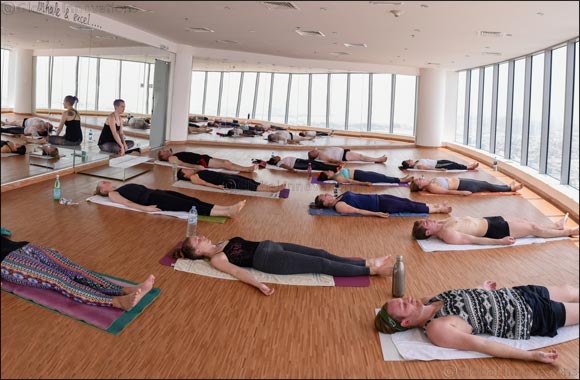 ** Community yoga studio offers panoramic views, a wide selection of classes and one of the friendliest places to inhale and excel **
Dubai, UAE, October 29, 2017: The journey of Voyoga began two years ago when former British lawyer Victoria Cunningham put her dreams down on paper and started the studio with the vision of creating a space that is welcoming to all, so everyone regardless of ability can enjoy their time at Voyoga.
Voyoga's state of the art and custom designed studio offers two yoga rooms designed for both Bikram yoga and regular yoga, with floor to ceiling windows and panoramic views across the city from the 31st floor. If nothing else, the view alone is reason enough to visit the studio!
Offering a range of yoga classes including Bikram, Bikram Express, Hot Yoga, Ashtanga, Vinyasa and Swing Yoga, plus special workshops and events that relate not only to yoga, but many other wellbeing topics.; Voyoga prides itself in being one of the friendliest places in the city to stretch, breathe, tone and enjoy some much needed time out.
After practice, you can grab a drink from the fridge, have a little sit down with friends in the communal areas, shower and change in the lovely bathrooms, browse the lovely shop area or chat to the friendly face at the front desk and the experienced instructors on any questions you may have – the community feeling at Voyoga is nothing like you find anywhere else.
At Voyoga, classes start from AED 85. Packages are available including a Newbie package of 7 days of unlimited classes for just AED 200 and unlimited monthly packages from AED 850. Centrally located in i-Rise Tower, Barsha Heights, visitors to Voyoga receive two hours complimentary parking as well as easy access to many other shops and facilities.
Come and make Voyoga your new home. And as they like to say at Voyoga, "inhale and excel".