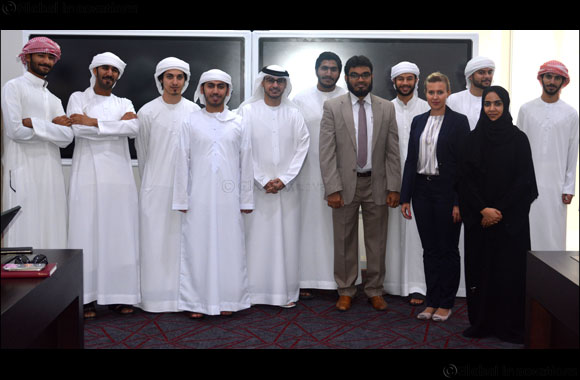 10 UAE Nationals to receive world-class vocational training in collaboration with Deutsche Bahn
Abu Dhabi, UAE: 28 October 2017: Etihad Rail DB, the operations and maintenance arm for Stage One of the UAE's national railway network, and the Abu Dhabi Vocational Education & Training Institute (ADVETI) have launched the UAE's first Rail Diploma, aiming to develop a highly skilled UAE National workforce for the railway industry.
The announcement follows the signing of a Memorandum of Understanding (MoU) between Etihad Rail, Etihad Rail DB, and ADVETI that took place in 2016. The partnership seeks to create opportunities for Emiratis in the UAE's rail industry, in support of Vision 2021.
The agreement creates occupational training and shared learning opportunities for the young Emirati students, and the participants will be able to specialize in one of four professions: train captain, train controller, rolling stock technician and systems technician.
The programme kicked off on August 20th with a railway induction week in Munich in order to prepare the Emirati students for future careers in the rail industry. Senior Etihad Rail DB and ADVETI officials led the trip which included various learning and networking sessions. In addition, the group visited different DB railway facilities along with a simulation training facility and an operations control centre.
In September, the first batch, comprised of 10 Emirati students, began the three-year Rail Diploma programme. The first two years will be spent with ADVETI at Baynounah Institute of Science and Technology in the Dhafra Region, with the final year focusing on functional training at Etihad Rail DB. The practical year will be split between Etihad Rail DB's headquarters in Mirfa, in the Western Region of Abu Dhabi and Doncaster, in the UK, with DB Cargo.
"We are delighted to achieve this milestone, and to sponsor and develop these bright Emirati talents who will form the bedrock of the UAE's growing railway industry," said HE AbdulMuhsen Younus, Chairman of Etihad Rail DB.
HE AbdulMuhsen Younus added: "The roll out of the Rail Diploma falls in line with our mandate to help realizing UAE Vision 2021, facilitating a national transition into a globally competitive and knowledge-based economy. We look forward to providing unique opportunities in occupational training for students eager to pursue careers in the UAE's rail industry. This would not have been possible without the help of both ADNOC and Etihad Rail; I would like to offer my sincerest gratitude to both companies for their support throughout."
HE Dr. Abdulrahman Jassim Al Hammadi, Managing Director of ADVETI, said: "It's an honour for us to be able to contribute to the UAE emerging railway market, and to ensure business continuity and sustainability for the transportation infrastructure across the UAE through an initiative such as this. In all we do, we look to adopt the very best global practices and training methods. That's why our partnership with Etihad Rail DB is so special, as it is one of the leading railway operators in the region."
HE Dr. Al Hammadi added: "We are happy to add this important diploma to our list of educational programmes at Baynounah Institute of Science and Technology, and we look forward to kicking off the course by utilizing the expertise and tools we have developed with our partners."