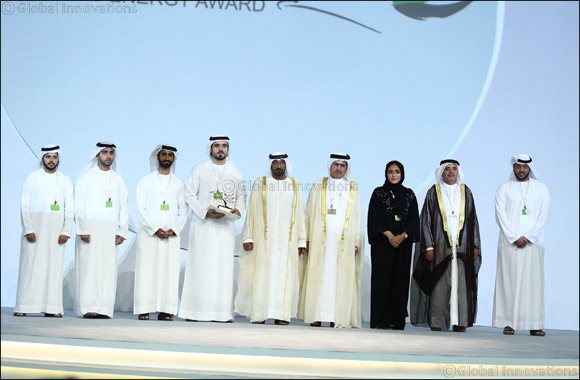 Al Shaibani:
The House has advanced technical, engineering and environmental solutions for the efficient use of energy natural resources
MBRSC is continuously conducting studies and researches in the field of sustainable autonomous houses to develop new green technologies
Ahli:
MBRSC Sustainable Autonomous House reduces energy consumption by 75%
Dubai, UAE, October 25, 2017: The Mohammed bin Rashid Space Centre (MBRSC) Sustainable Autonomous House, the first of its kind Passive House for a hot and humid climate, won the gold Emirates Energy Award 2017 – under the category of Solar Energy Projects - Small Scale, organized by Dubai Supreme Council of Energy (DSCE), under the patronage of HH Sheikh Mohammed bin Rashid Al Maktoum, Vice President and Prime Minister of the UAE and Ruler of Dubai, under the theme "Innovative solutions for clean energy".
Engineer Abdulla Ahli, Manager of Sustainable Energy Programs at MBRSC received the award from HH Sheikh Ahmed Bin Saeed Al Maktoum, Chairman of the Dubai Supreme Council of Energy (DSCE) in the presence of HE Saeed Mohammed Al Tayer, Vice Chairman of Dubai Supreme Council of Energy and HE Ahmed Buti Al Muhairbi, Secretary General of the Dubai Supreme Council of Energy.
H.E. Yousuf Al Shaibani, Director General of MBRSC thanked DSCE for awarding the Centre with Emirates Energy Award. Al Shaibani said that the "Sustainable Autonomous House is a new achievement that supports the UAE journey in building a sustainable green economy, especially that the house has advanced technical, engineering and environmental solutions in which energy natural resources are used in the housing sector efficiently'. He also pointed out that MBRSC's Sustainable Autonomous House attains UAE's strategy for green development and Dubai Clean Energy Strategy 2050 objectives".
Al Shaibani stressed that the "Centre is continuously conducting studies and researches in the field of sustainable autonomous houses to develop new green technologies according to the highest international standards, and in line with the country's objectives and needs".
Engineer Abdulla Ahli, Manager of Sustainable Energy Programs at MBRSC said that "MBRSC Sustainable Autonomous House reduces energy consumption by 75%, relying on smart, technical and engineering solutions". He added: "The combination of these three solutions contributes to the sustainability of energy natural resources and environmental conservation, especially that it does not emit carbon dioxide'.
Ahli pointed out that 'the specifications of the house provides its residents an ideal healthy and comfortable living environment, by providing highest levels of thermal comfort, prevention of humidity condensation, mold growth, dust spread".