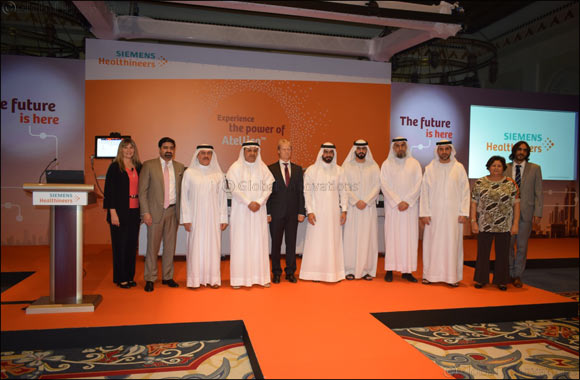 AtellicaTM Solution is 10 times faster than conventional conveyors, significantly reducing test result wait times for patients
Represents a new standard in sample management, allowing for independent control of every sample and immediate priority sample management, reducing operator intervention and leading to fewer errors
Leads the industry in productivity per square meter1—up to 440 tests per hour2—with more than 300 customizable configurations
Dubai, UAE, October 24, 2017: Siemens Healthineers today launched the Atellica Solution—a first-of-its-kind laboratory solution designed to provide patients with rapid, high precision test results—at an exclusive VIP event at Jumeirah Mina A'Salam. Dr. Amin Al Amiri, Assistant Undersecretary, Public Health Policy and Licensing Sector, UAE Ministry of Health and Prevention, was the keynote speaker presenting the vision and providing insights into the healthcare infrastructure in the UAE. The event was attended by notable dignitaries, including His Excellency Humaid Mohammad Al Qutami, Chairman of the Board and Director-General of the Dubai Health Authority. Also in attendance were Abdulkareem Al Olama, Chief Executive Officer Al Jalila Foundation, Abdulla Al Gurg, Group General Manager, Easa Saleh Al Gurg Group and CEOs of leading healthcare providers in the UAE.
In a study of UAE residents earlier this year, 44% revealed that waiting for test results is the most daunting part of facing a health issue: more daunting than taking the test itself (22%) or speaking to a health professional about a health issue (18%)3.
The Atellica Solution features patented bi-directional, magnetic transport technology 10 times faster than conventional sample conveyors as well as an immunoassay analyzer that can run up to 440 tests per hour2. The transport technology, together with a multi-camera vision system, intelligent sample routing, and automatic quality control (QC) and calibration, give laboratories independent control over every individual sample. It also provides unprecedented flexibility and scalability to adapt to the growing test needs and space constraints faced by many laboratories.
"The launch of the Atellica Solution is aligned with the UAE Vision 2021 national agenda that calls for a world-class healthcare system," said His Excellency Dr. Amin Al Amiri. "We've progressed tremendously over the last 20 years and are setting the benchmark for the region through the building of global partnerships, establishment of regulatory and infrastructure frameworks and the relentless pursuit of excellence. State-of-the-art laboratory technologies are crucial to ensuring we provide the most precise and efficient diagnostic tools available. The Atellica Solution brings us closer to our goals."
The Atellica Solution incorporates an intelligent yet simple sample management system that is able to process 30 different container types including pediatric and special containers and has a menu of 170 assays including a 10-minute turnaround time for key cardiac, reproductive and thyroid tests.
"The UAE is an early adopter of new technologies and the Atellica Solution, with its increased speed and flexibility, will provide enormous value to the UAE community," said Kay Zwingenberger, Managing Director Middle East & Africa, Siemens Healthineers. "In a rapidly evolving environment like healthcare in the UAE, people look for what's better and faster but also what's safer and trustworthy. Our technology is based on customer input and market trends, and addresses the evolving healthcare landscape to put the patient first, freeing up customer time spent on the management side of the operation and focusing more on delivering better clinical outcomes."
The Atellica Solution is capable of operating as a stand-alone system or can connect to Aptio Automation and provide a comprehensive, multidisciplinary testing solution that can include clinical chemistry, hematology, and plasma protein analyzers.