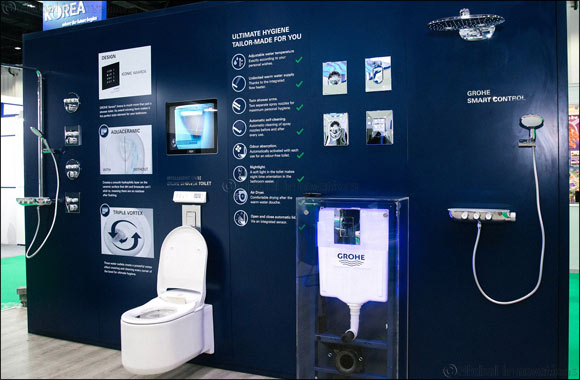 Dubai, UAE, October 24, 2017: At this year's WETEX exhibition GROHE, the world's leading single-brand manufacturer and supplier of sanitary fittings showcased their commitment to creating exceptional experiences with the utmost attention to environmental protection and sustainability. Sanitary professionals, key industry players and visitors were invited to the GROHE stand displaying five new innovative products to the Middle East market which have all been manufactured in line with GROHE's four core values, quality, technology, design and sustainability.
For GROHE, the conscious, economical use of energy and resources is not just a challenge but also a great responsibility. Environmental protection and resource conservation as well as occupational health and safety requirements are integral components of their business strategy. That's why the company channels all their inventive spirit into masterminding sustainable systems with the overarching aim of making a significant impact on the environment.
"Our participation in the 19th edition of WETEX marks an important milestone in positioning GROHE at the forefront of sustainability and technology in the sanitary fittings industry in the Middle East. With all GROHE's product offerings, we strive to continually foster a sense of environmental responsibility and resource conservation as well as occupational health and safety for all households. In addition to this, our aim is to be a source of enjoyment through the most innovative and sustainable technology to provide consumers with ease and comfort," Commented Firas Ibrahim, Gulf Vice President, GROHE Middle East.
Among the exciting innovations showcased at the exhibition were the new Sensia Arena, Sense and Sense Guard, Grohe Blue, Smart Control Concealed, and Smart Control Exposed, that all highlighted the manufacturer's leading market position and the brand's forward-looking ambitions.
The GROHE Sensia Arena is the new generation of shower toilets which sets the benchmark for the future of personalized, clean comfort. The GROHE Sensia Arena harnesses the gentle and effective cleansing benefits of water to help deliver optimum hygiene levels in the bathroom. The shower toilet features the latest in technology, including app control which allows you to create and remember personal profiles on any Sensia Arena anywhere in the world.
The GROHE Sense and GROHE Sense Guard are GROHE's latest intelligent solutions for the smart home. GROHE Sense Guard is a smart water controller, which detects frost risk, micro leakages and pipe breaks. Being installed in the central water pipe of the house by a professional installer, one can turn off the water supply with the device automatically in case of a burst pipe. The GROHE Sense smart water sensor monitors humidity, detects leaks and alerts homeowners instantly in case of a problem. Both use ground-breaking smart technology, allowing them to be monitored and controlled using the GROHE ONDUS App.
The GROHE Blue Home is a water system that also perfectly meets the needs of the modern home. It combines a tap with a cooler and an integrated filter and carbonator to deliver perfectly chilled still, medium or sparkling water directly from the tap. Thanks to its slim design it can even be fitted into small spaces. Compared to premium bottled water GROHE Blue Home cuts drinking water costs by up to 60 percent, while total carbon emissions are reduced by about 80 percent compared to bottled water.
The innovative GROHE SmartControl Concealed and GROHE SmartControl Exposed technology were developed to provide perfect ease of shower operation as it lets you choose your preferred spray pattern and adjust the water flow as desired. Operation is simple and easy for all the family - including children. As a result, GROHE SmartControl delivers a perfect shower experience for every member of the family.