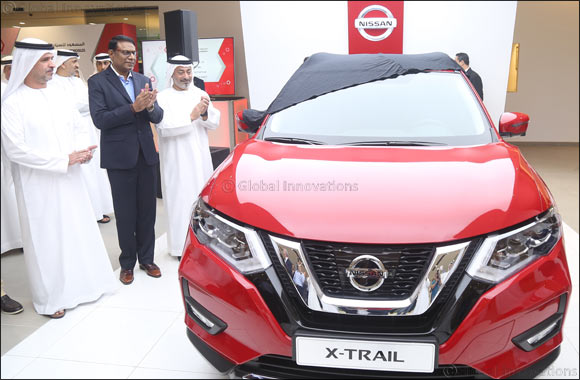 The Abu Dhabi distributor adds excitement to the inauguration by launching the newest SUV – the 2018 Nissan X-TRAIL
Abu Dhabi, United Arab Emirates, October 23, 2017: Al Masaood Automobiles Company, the exclusive distributor of Nissan vehicles in Abu Dhabi and Al Ain, has recently inaugurated its highly anticipated Nissan Retail Environment Design Initiative "NREDI" in the presence of His Highness Sheikh Nahyan bin Hamdan Al Nahyan at the grand reopening of its Khalidiya Showroom.
At the event, the distributor also launched the latest 2018 Nissan X-TRAIL, which has undergone a distinctive and robust redesign and includes enhanced practicality and new technology.
The "NREDI" automotive retail concept aims to enhance the experience of customers by equipping the showroom with state of the art visual and technological updates in all areas to allow future owners to get a full virtual experience of vehicles. Al Masaood Automobiles Company has invested to entirely renovate the 1,700 square-meter Nissan showroom, upgrading it to global retail standards, offering customers a relaxing atmosphere to explore up to 15 models on display.
The showroom also features digital interaction technology, modern interiors and geometric car displays, as well as visual transparency and a sense of space.
Irfan Tansel, Chief Executive Officer of Al Masaood Automobiles Company, said: "This inauguration is a very proud moment for us, as we are the first Nissan distributor to launch the NREDI showroom experience in the Middle East. With this launch, we are demonstrating our confidence in the Abu Dhabi market and our plans to build on our success and strengthen our presence in the automotive sector."
He added: "It is a very exciting time for us as an organization with the launch of the new 2018 Nissan X-TRAIL as well, which will be of great interest to our devotees as well as to new customers. The new model delivers more of what customers want in an SUV – upgraded design, space, comfort and the ability to handle a range of terrains."
The Nissan X-TRAIL 2018 model is the first to be revealed at the inauguration of the NREDI showroom.
Bachir Gemayel, Nissan Brand Manager at Al Masaood Automobiles also commented, "We have noticed an unrelenting increase in the demand for crossovers in the region, and this is why the introduction of the 2018 Nissan X-TRAIL will respond directly to customers' needs and enrich their satisfaction."
The new upgrades on the 2018 Nissan X-TRAIL will offer young families and adventure-seekers alike additional premium style options and features that will enhance their driving experience. Customers can choose from the five or seven-seat version of the new model, as well as five vibrant exterior vehicle colors.
The new X-TRAIL is equipped with three new driver-friendly innovative features for the first time - Intelligent Rear View Mirror, Intelligent Emergency Brakes, and Intelligent Cruise Control, and will have a price ranging between AED 88,000 to AED 130,000.